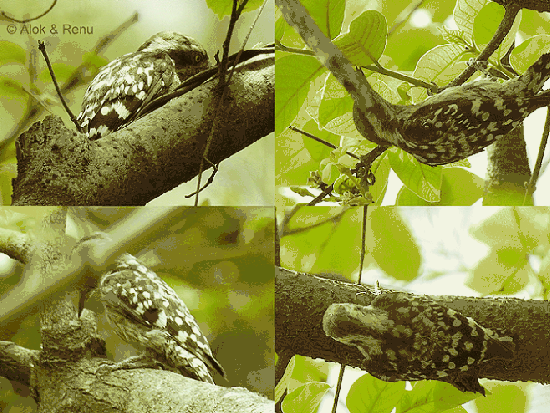 Alternative name: Indian Pygmy Woodpecker
Yungipicus nanus
Picoides nanus; Dendrocopos nanus
Identification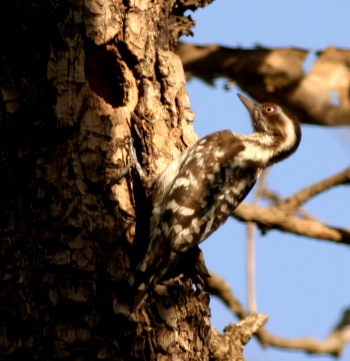 13 cm (5 in)
Brown and white barring on upperparts
Streaked white underparts
Spotted white tail
Pink-rimmed white irises
Pale brown crown (edged with red in males)
Pale brown eyestripe
White supercilium and cheek
Similar Species
A little smaller than a Red-vented Bulbul and bigger than a Purple-rumped Sunbird.
Distribution
Found on the Indian Subcontinent and Sri Lanka.
Taxonomy
Subspecies
Three subspecies recognized[1]:
Y. n. nanus in northern and central India
Y. n. cinereigula in southern India
Y. n. gymnopthalmos in Sri Lanka
It was formerly considered conspecific with Sunda Woodpecker.

Habitat
Paddy fields, mangroves, coastal scrub, plantations, parks and gardens, open woodland.
Behaviour
Diet
Their diet consists of small invertebrates and their larvae, particularly ants, termites and beetles. They also eat some fruit.
Breeding
The pair both excavate a hole about 15-30cm long in a dead tree.
Gallery
Click on photo for larger image
References
Clements, J. F., T. S. Schulenberg, M. J. Iliff, D. Roberson, T. A. Fredericks, B. L. Sullivan, and C. L. Wood. 2018. The eBird/Clements checklist of birds of the world: v2018. Downloaded from http://www.birds.cornell.edu/clementschecklist/download/
BF Member observations
Handbook of the Birds of the World Alive (retrieved March 2019)
Recommended Citation
External Links