Alternative name: Desert Raven
Corvus ruficollis
Identification
52-56cm. A large raven.
Mostly black plumage
Glossed dark green on crown and upperparts
Glossed violet on upperwing and tail
Shiny brown nape, upper mantle, throat and side of neck
It seems feet occasionally are yellow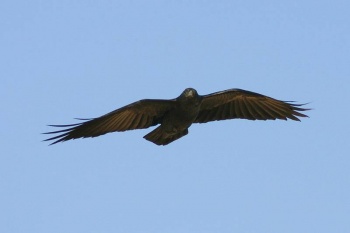 Similar species
Differs from Common Raven by smaller size, shorter throat hackles, brown colour on head and neck and narrower wings with more pointed wingtip. Somali Crow is much smaller.
Distribution
Northern Africa to western Pakistan.
Found from Cape Verde Islands east over much of the Sahara to the Arabian Peninsula and in Israel. Also in Iran, Pakistan, Afghanistan and north to Kazakhstan.
Common and widespread through its range.
Taxonomy
This is a monotypic species.
Formerly considered conspecific with Somali Crow.
Habitat
Semi-desert and desert, dry savanna. Also in oasis, desert settlements and rubbish dumps.
Behaviour
Diet
Omnivorous. The diet includes carrion, snakes, locusts, grasshoppers, fruit and grain. Known to kill newborn lambs and gazelles.
Breeding
Breeding season differs through range. It nest in trees or on cliffs; 4-5 eggs are laid and incubated for 20-22 days. The young fledge 37 or 38 days later.
Movements
A sedentary species. Northern populations in Kazakhstan move south in winter.
References
Clements, J. F., T. S. Schulenberg, M. J. Iliff, B.L. Sullivan, C. L. Wood, and D. Roberson. 2013. The eBird/Clements checklist of birds of the world: Version 6.8., with updates to August 2013. Downloaded from http://www.birds.cornell.edu/clementschecklist/download/
Del Hoyo, J, A Elliott, and D Christie, eds. 2009. Handbook of the Birds of the World. Volume 14: Bush-shrikes to Old World Sparrows. Barcelona: Lynx Edicions. ISBN 978-8496553507
Recommended Citation
External Links