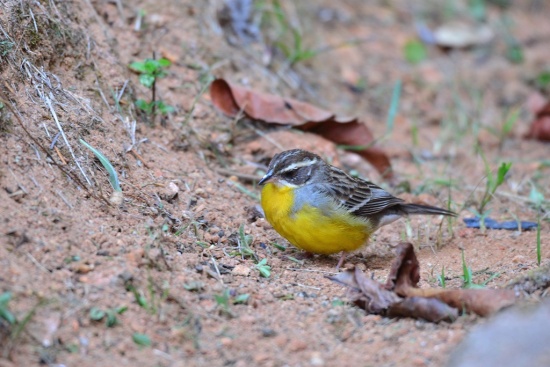 Emberiza cabanisi
Identification
16–17 cm (6¼-6¾ in) Male
Dark crown
White supercilium
Dark, heavily streaked upperparts
Yellow underparts
Distribution
Africa
Western Africa: Guinea-Bissau, Guinea, Sierra Leone, Liberia, Ivory Coast, Burkina Faso, Ghana, Togo, Benin, Nigeria, Chad, Cameroon, Central African Republic, Equatorial Guinea, Gabon, DRC and Angola.
Eastern Africa: South Sudan, Uganda, Rwanda, Tanzania, Zambia, Mozambique and Malawi.
Southern Africa: found only in Zimbabwe.
Taxonomy
Subspecies
There are 2 subspecies[1]:
An addition subspecies cognominata is generally considered invalid[2].
Habitat
Dry broad leafed forest and wooded savanna.
Behaviour
Diet
Their diet consists mostly of insects, especially grasshoppers and grass seeds. They also eat insect larvae, including beetle.
Breeding
Dictionary_M-O#Monogamous. The female builds the nest.
References
Clements, J. F., T. S. Schulenberg, M. J. Iliff, D. Roberson, T. A. Fredericks, B. L. Sullivan, and C. L. Wood. 2017. The eBird/Clements checklist of birds of the world: v2017, with updates to August 2017. Downloaded from http://www.birds.cornell.edu/clementschecklist/download/
Avibase
Handbook of the Birds of the World Alive (retrieved October 2016)
Wikipedia
Recommended Citation
External Links