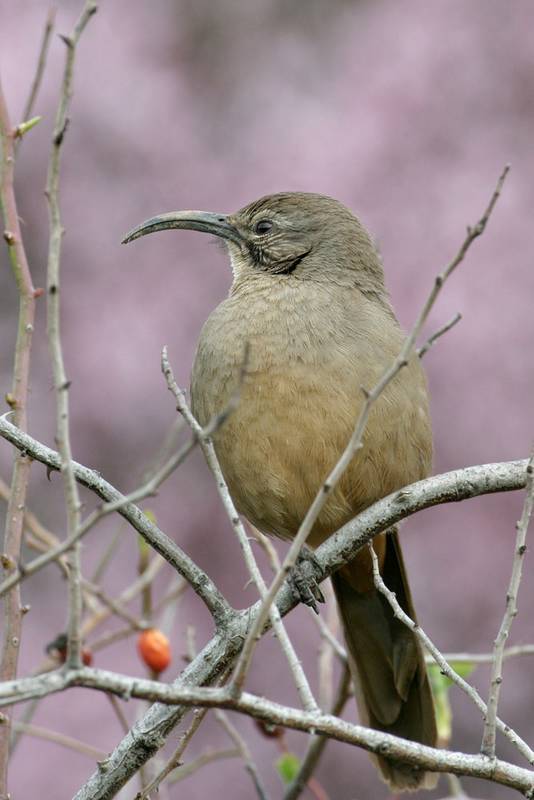 Toxostoma redivivum
Identification
28–32 cm (11-12½ in)
Dark brown upperparts
Paler grey-brown underparts
Finely streaked face
Buff throat patch
Long tail
Reddish-brown undertail coverts
Dark iris
Very long black, decurved bill
Grey-brown legs and feet

Sexes similar
Similar Species
Crissal Thrasher of Colorado Desert lacks pale supercilium and has deep rust-colored crissum. Ranges do not overlap. LeConte's Thrasher is smaller and paler, also lacks supercillium; prefers sparsely vegetated arroyos and gullies.
Variations
Northern populations are darker and browner (less gray).
Distribution
Northern California south to northern Baja California.
Taxonomy
Subspecies[1]
This is a polytypic species consisting of two subspecies:
Chaparral belt of northern California (south to Monterey)
A third subspecies pasadenensis is generally considered invalid[4].
Habitat
Chaparral, Riparian, foothills mixed woods and dense shrubs. Creeks and lake shores. Also residential areas.
Behaviour
Actions
Runs on the ground with tail cocked. Inconspicuous except when singing.
Diet
The diet includes beetles, spiders, bugs and fruits.
Breeding
Both sexes build the nest which is hidden dense vegetation. The eggs are incubated for 14 days; the young fledge 14-17 days later.
Vocalisation
Song consists of vigorous phrases variously repeated, delivered in a continuous sequence with brief pauses between successive sequences. Females also sing and may pairs may counter-sing. Calls include a low harsh chuck and a loud throaty quip.
Movements
Resident with limited dispersal of young.
References
Recommended Citation
External Links
Search the Gallery using the scientific name:
Search the Gallery using the scientific name:
GSearch checked for 2020 platform.