This article is incomplete.
This article is missing one or more sections. You can help the BirdForum Opus by expanding it.
Overview
The Camargue, a delta and wetlands, situated between the Grand Rhone and Petit Rhone rivers, is approximately 100,000 hectares/247,105 acres in size, with a diverse habitat and range of uses.

There are three specific zones present. One zone is cultivated in the north portion of the delta. In the east and west can be found salt banks, and the southern area contains lagoons.

It has also been described as a sanctuary for the study of birds with approximately 400 species of birds having been reported as seen here. One of those is the Pink Flamingo, which has become the icon for Camargue birds[1].
Birds
Notable Species
The Carmargue area has been described as an all-around good spot for birding with the site Marvellous Provence saying the best place to bird is anywhere in the area and the best time is anytime[3]. The article does go on to say there are variables at play that can influence how well that turns out. It has been described as famous for its shorebirds[4] and for the assertion, this is the only nesting site in France for Flamingos with around 50-60,000 present in the spring and summer and 5-6,000 wintering there. Noted as one of the most important locations for birds in France with more than 20,000 waterbirds breeding in winter and passage[5].
Rarities
Some of the species reported as rare in this area[6] are the Snow Goose, Pied-billed Grebe, Oriental Turtle-Dove, Red-necked Nightjar, Little Swift, Red-knobbed Coot, American Golden-Plover, Upland Sandpiper, Cream-colored Courser, Bonaparte's Gull, Bulwer's Petrel, Magnificent Frigatebird, Pygmy Cormorant, Great White Pelican, Great Blue Heron, Lesser Spotted Eagle, Blue-cheeked Bee-eater, Lanner Falcon, Isabelline Shrike, Mediterranean Short-toed Lark, Eastern Olivaceous Warbler, Plain Martin, Hume's Warbler, Barred Warbler, Rosy Starling, White's Thrush, White-throated Robin, Citrine Wagtail, Trumpeter Finch, Black-headed Bunting.
Check-list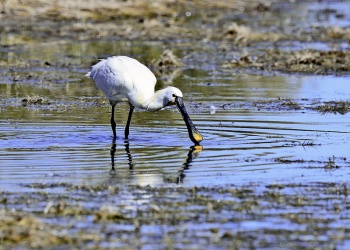 Birds you can see here include:
Red-breasted Merganser, Black Grouse, Greater Flamingo, Eared Grebe, Eurasian Collared-Dove, Pin-tailed Sandgrouse, Common Cuckoo, Eurasian Nightjar, Pallid Swift, Little Crake, Common Crane, Eurasian Thick-knee, Pied Avocet, Eurasian Dotterel, Common Redshank, Collared Pratincole, Long-tailed Jaeger, Dovekie, Sandwich Tern, Common Loon, European Storm-Petrel, Manx Shearwater, White Stork, Northern Gannet, Northern Gannet, European Shag, Black-crowned Night-Heron, Eurasian Spoonbill, Osprey, Common Buzzard, Barn Owl, Short-eared Owl, Eurasian Hoopoe, Common Kingfisher, European Bee-eater, European Roller, Black Woodpecker, Peregrine Falcon, Rose-ringed Parakeet, Eurasian Golden Oriole, Woodchat Shrike, Common Raven, Great Tit, Eurasian Penduline-Tit, Crested Lark, Bearded Reedling, Zitting Cisticola, Great Reed Warbler, Common Grasshopper-Warbler, Common House-Martin, Common Chiffchaff, Cetti's Warbler, Long-tailed Tit, Marmora's Warbler, Common Firecrest, Wallcreeper, Eurasian Nuthatch, Short-toed Treecreeper, Eurasian Wren, White-throated Dipper, Spotless Starling, Dusky Thrush, Black Wheatear, Bohemian Waxwing, Dunnock, White-winged Snowfinch, American Pipit, Eurasian Siskin, Snow Bunting, Reed Bunting
Other Wildlife
To do
Site Information
History and Use
To do
Areas of Interest
To do
Access and Facilities
The nearest airport to the Camargue with commercial service is Nimes (FNI). Consult a trusted travel professional for up-to-date, specific information on this and other possible options to get to this location.
Contact Details
To do
References
Recommended Citation
External Links
To do
Maps