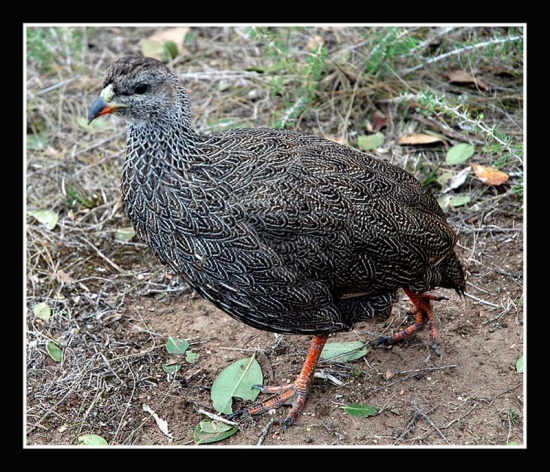 Alternative names: Cape Spurfowl
Pternistis capensis

Identification
Length 40-43 cm (17"), mass 636-1018 g. A large, dark spurfowl.
Adult: Dark cap contrasts with paler cheeks; legs and feet dull red. Upper mandible dark, lower mandible dull orange, cere dull yellow. Males and females are alike, except that females have only a rudimentary spur on the back of their tarsi.
Similar Species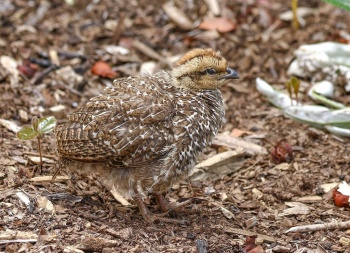 Pale cheeks contrasting with dark cap distinguish this species from other large Francolins and Spurfowl. Overlaps in range only with Red-necked Spurfowl but has no red on throat or around the eyes.
Distribution
Western South Africa and extreme southern Namibia.
Taxonomy
This is a monotypic species[1].
Formerly placed in genus Francolinus. This generic change is a consequence of a proposed revision to Francolinus by Crowe et. al. (1992)[6] which divides the genus up into four different genera. However, these name changes are not without controversy.[8]. Some authors lump this species with the Natal Spurfowl.
Habitat
Lowland fynbos, fields, gardens; riparian thickets in the Karoo.
Behaviour
Conspicuous; a bold scavenger at many picnic sites, runs rather than flies when disturbed. Usually in pairs or small coveys.
Diet
Eats invertebrates, bulbs, corms, seeds, and fruit.
Breeding
Probably monogamous and territorial. The nest is a well-concealed shallow scrape in the ground, lined with grass. Four to eight eggs are laid (mainly August to December in the south-west) and incubated for about 23 days by the female. Chicks are brooded by both parents (and sometimes also other related hens).
Vocalisation
Commonly heard call is a loud, screeching, "cackalac-cackalac-cacalac."
Movements
Sedentary.
References
Clements, J. F., T. S. Schulenberg, M. J. Iliff, S. M. Billerman, T. A. Fredericks, B. L. Sullivan, and C. L. Wood. 2019. The eBird/Clements Checklist of Birds of the World: v2019. Downloaded from http://www.birds.cornell.edu/clementschecklist/download/
Dickinson EC (ed.) 2003. The Howard & Moore Complete Checklist of the Birds of the World. 3rd ed. Princeton Univ. Press, Princeton, NJ, USA. ISBN 9780691117010
Gill, F and M Wright. 2008. Birds of the World: Recommended English Names. Princeton University Press, Princeton NJ, USA. 2006. ISBN 9780691128276. Update (2008) downloaded from http://worldbirdnames.org/names.html.
Hockey, PAR, WRJ Dean, and PG Ryan, eds. 2005. Roberts' Birds of Southern Africa. 7th ed. Cape Town: John Voelcker Bird Book Fund. ISBN 978-0620340533
Sibley, CG and BL Monroe. 1996. Birds of the World, on diskette, Windows version 2.0. Charles G. Sibley, Santa Rosa, CA, USA.
Crowe, T. M., Harley, E. H., Jakutowicz, M. B.,Komen, J., Crowe, A. A. (1992). Phylogenetic, taxonomic and biochemical implications of genetic, morphological, and behavioral variation in francolins (Phasianidae: Francolinus). Auk 109: 24–42. Available online at: http://elibrary.unm.edu/sora/Auk/v109n01/p0024-p0042.pdf
McGowan, P.J.K. & Kirwan, G.M. (2018). Cape Francolin (Pternistis capensis). In: del Hoyo, J., Elliott, A., Sargatal, J., Christie, D.A. & de Juana, E. (eds.). Handbook of the Birds of the World Alive. Lynx Edicions, Barcelona. (retrieved from https://www.hbw.com/node/53413 on 25 June 2018).
P.J. Viljoen, P. le S. Milstein and the late R.C. Bigalke Whatever happened to our frankolins and partridges.: http://www.wingshooters.co.za/pdf/articles/Spurfowl%20Controversy.pdf
Recommended Citation
External Links