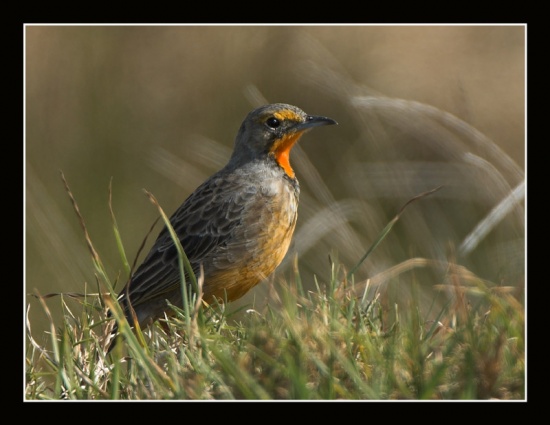 Alternative name: Orange-throated Longclaw
Identification
Length 19-20 cm (7½-8"), mass 46 g.
Male: The crown and nape are mottled light and dark brown and the ear coverts and sides of the neck are paler. The eyebrow is orange. Upperparts are light brown, streaked darker. The throat is bright orange, separated from the bright yellow underparts by a bold black collar. The tail is brown and white, the white being conspicuous in flight.
Female: Similar to the male, but the throat is paler and the collar narrower.
Juvenile: Buffy to dull orange-yellow below, with a band of spots forming an inconspicuous collar.
Distribution
Southern Africa: South-western, extreme southern, and eastern South Africa, Lesotho, western Swaziland, and Zimbabwe highlands.
Taxonomy
This is a polytypic species. Three subspecies are recognized[1].
Subspecies
M. c. stabilior : has darker back, wings and tail than the nominate, and underparts that are similar to colletti
M. c. colletti: has upperparts that are more rufous and less grey than the nominate, and underparts less streaked
M. c. capensis: (described above)
Habitat
Favors short, usually dry, grassland and short fynbos in cool climates, but in warmer areas prefers moist grassland,
Behaviour
Usually forages in pairs in short grass.
Diet
Food includes wide range of insects, both adults and larvae; also some grass seeds (Gramineae).
Breeding
September to March, mostly November to February, in Zimbabwe, and from September in Mozambique; in South Africa, August to April (mainly November to January).
Vocalisation
Song, in flight, a series of clear, piping, far-carrying "dweet" or "deweet. The alarm call is a loud cat-like "meew".
Movements
Resident; some post-breeding altitudinal movements.
References
Clements, J. F., T. S. Schulenberg, M. J. Iliff, D. Roberson, T. A. Fredericks, B. L. Sullivan, and C. L. Wood. 2017. The eBird/Clements checklist of birds of the world: v2017, with updates to August 2017. Downloaded from http://www.birds.cornell.edu/clementschecklist/download/
Hockey, PAR, WRJ Dean, and PG Ryan, eds. 2005. Roberts' Birds of Southern Africa. 7th ed. Cape Town: John Voelcker Bird Book Fund. ISBN 978-0620340533
Tyler, S. (2018). Cape Longclaw (Macronyx capensis). In: del Hoyo, J., Elliott, A., Sargatal, J., Christie, D.A. & de Juana, E. (eds.). Handbook of the Birds of the World Alive. Lynx Edicions, Barcelona. (retrieved from https://www.hbw.com/node/57813 on 8 July 2018).
Sinclair, I., Hockey, P.A.R., and Arlott, N. (2005). The Larger Illustrated Guide to Birds of Southern Africa. Struik, Cape Town. ISBN 978-1775840992
Recommended Citation
External Links