Alternative name: Rufous Rockjumper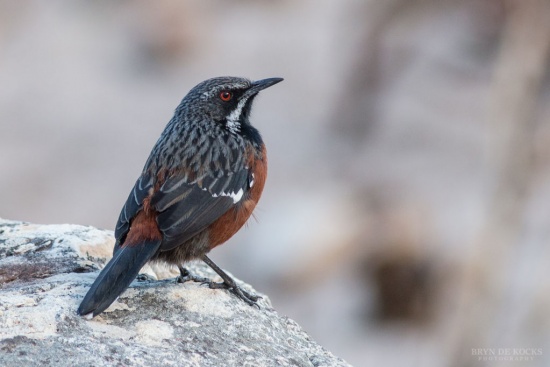 Chaetops frenatus
Identification
Length 23-25 cm, mass 49-73 g; males larger than females. Long black tail, strong legs, dark grey head with a thin white supercilium and a broad white moustache. The back and wings are dark grey, and the underparts and rump are rufous red.
Distribution
Southern South Africa.
Locally common restricted-range species.
Taxonomy
This is a monotypic species[1]. Sometimes treated conspecific with Drakensberg Rockjumper.
This genus was traditionally placed with the Thrushes or the Babblers (Timaliidae), but is now considered to be more closely related to the rockfowl (genus Picathartes), and has been placed in the monogeneric family Chaetopidae. Molecular evidence indicates that this family diverged from the main Passerine tree about 45 million years ago, before the divergence of the Passerida into the superfamilies Muscicapoidea, Sylvioidea and Passeroidea (Hockey et al., 2005).
Habitat
Mountainous rocky slopes and scree with fynbos.
Behaviour
Forages on the ground in pairs or family groups for invertebrates (occaisionally lizards and amphibians).
Breeding
Monogamous and territorial; a cooperative breeder. The nest is an untidy bowl of plant material built on the ground against a rock or restio- or reed-clump; built by both sexes. Two eggs are laid July-January; they are incubated by both sexes. Both adults and helpers feed young.
References
Clements, J. F., T. S. Schulenberg, M. J. Iliff, D. Roberson, T. A. Fredericks, B. L. Sullivan, and C. L. Wood. 2016. The eBird/Clements checklist of birds of the world: v2016, with updates to August 2016. Downloaded from http://www.birds.cornell.edu/clementschecklist/download/
Hockey, PAR, WRJ Dean, and PG Ryan, eds. 2005. Roberts' Birds of Southern Africa. 7th ed. Cape Town: John Voelcker Bird Book Fund. ISBN 978-0620340533
Recommended Citation
External Links