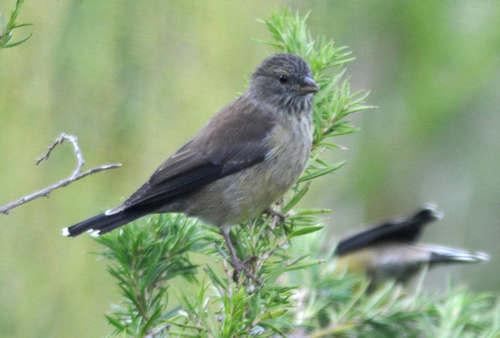 Crithagra totta
Pseudochloroptila totta, Serinus totta
Identification
Length 12-13 cm, mass 10-16 g.
Adult male: Back and wing coverts are warm olive-brown; flight and tail feathers are blackish brown with white tips. Rump, throat, breast and belly are yellow. Head pale brownish olive to greyish, lightly streaked brown and yellow; indistinct yellow eyebrow.
Adult female: Duller than the male; upperparts similar to those of the male, but white tips of flight and tail feathers are less distinct; throat and breast streaked brown.
Distribution
South-western South Africa (country endemic).
Taxonomy
This is a monotypic species[1].
Formerly placed in genus in Pseudochloroptila by Clements or in in Serinus.
Habitat
Fynbos of mountains and valleys; also edges of forest and pine plantations, patches of alien Acacia, and gardens.
Behaviour
In pairs, family groups or flocks.
Diet
Forages on the ground in bare patches, mainly for seeds, but also eats buds, flowers, nectar and insects.
Breeding
The nest is a shallow cup of fine grass and fine rootlets and lined with fine grass (sometimes plant down, wool, or hair), built by the female. Three to four eggs are laid August to December, and incubated for about 13 days by the female (fed by the male on the nest).
There is one record of brood parasitism by Red-chested Cuckoo.
References
Clements, J. F., T. S. Schulenberg, M. J. Iliff, D. Roberson, T. A. Fredericks, B. L. Sullivan, and C. L. Wood. 2017. The eBird/Clements checklist of birds of the world: v2017, with updates to August 2017. Downloaded from http://www.birds.cornell.edu/clementschecklist/download/
Hockey, PAR, WRJ Dean, and PG Ryan, eds. 2005. Roberts' Birds of Southern Africa. 7th ed. Cape Town: John Voelcker Bird Book Fund. ISBN 978-0620340533
Recommended Citation
External Links