Alternative names: Red-shouldered Glossy Starling, Cape Glossy Starling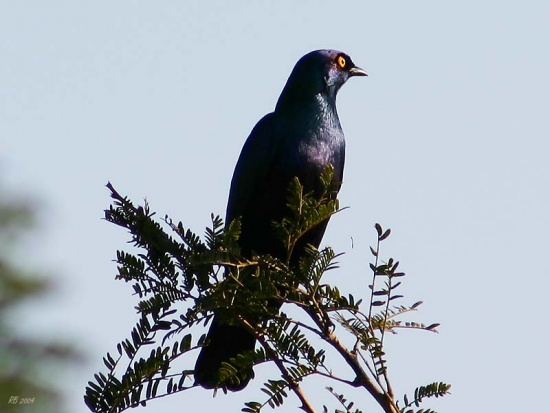 Lamprotornis nitens
Identification
25 cm (6 in). A rather large glossy starling with a short tail and an uniform appearance.
Glossy blue head, blacker on ear-coverts
Blue-green upperparts with stron iridescence
Blue-green wings with distinctive bronzy-purple epaulet
Glossy blue-green tail
Blue iridiscence on throat and upper breast, greener gloss on lower breast, belly and undertail-coverts
Bright orange-yellow eye
Black bill and legs
Sexes similar. Juveniles are duller with matt black underparts.
Distribution
Found from around the mouth of the River Congo south through Angola to southwest Zambia, Zimbabwe, Namibia, Botswana and South Africa (except Cape region and dry western interior). Also in the lowlands of Lesotho, Swaziland and into southern Mozambique.
Widespread and common in most of its range.
Taxonomy
A monotypic species. Some authorities recognize birds from eastern South Africa as culminator and birds from Namibia to Zimbabwe and northeast South Africa as phoenicopterus.
Habitat
Forest, bushveld, riverine forests, close to lakes, dams and streams, parks and gardens.
Behaviour
Breeding
A monogamous species. Breeding season September to March in South Africa and probably February to March in Angola. A co-operative breeder, offspring of breeding pair remain up to 3 years as helpers. The nest is placed in a tree cavity (including old woodpecker or barbet holes), rarely in riverbanks. Lays 3 eggs.
Diet
An omnivorous species. Feeds mainly on fruit and insects but takes also carrion and bread and bone meal at birdtables.
Usually forages in flocks of up to 20 birds, sometimes also in mixed-species flocks.
References
Clements, J. F., T. S. Schulenberg, M. J. Iliff, D. Roberson, T. A. Fredericks, B. L. Sullivan, and C. L. Wood. 2015. The eBird/Clements checklist of birds of the world: v2015, with updates to August 2015. Downloaded from http://www.birds.cornell.edu/clementschecklist/download/
Del Hoyo, J, A Elliott, and D Christie, eds. 2009. Handbook of the Birds of the World. Volume 14: Bush-shrikes to Old World Sparrows. Barcelona: Lynx Edicions. ISBN 978-8496553507
Avibase
Birds of Southern Africa
Recommended Citation
External Links