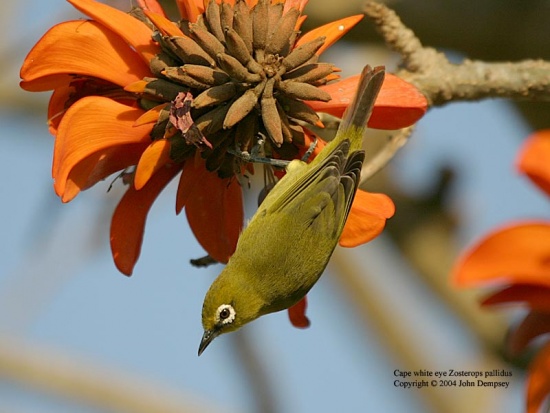 Disambiguation: Pale White-eye has in the past been used for this species but is currently used for a different species Pale White-eye
Zosterops virens
Includes Green White-eye

Identification
Length 12 cm (5"), mass 8-15 g
Rounded wings, strong legs, marked eye-ring of white feathers. Upperparts olive-green; throat and vent are bright yellow.
Distribution
South-eastern Botswana, southern Mozambique, Swaziland, Lesotho and South Africa.
Taxonomy
A member of the Zosteropidae family (Swainson, 1838) closely related to African Yellow White-eye Zosterops senegalensis
Subspecies
There are two subspecies recognized:1
Z. v. capensis -- Cape White-eye
Southwestern South Africa (east to western Eastern Cape), Lesotho, and western KwaZulu-Natal
Grey breast and belly
Z. v. virens -- Green White-eye
Eastern South Africa (eastern Eastern Cape to eastern Free State, KwaZulu-Natal, and Mpumalanga), Swaziland, and southwestern Mozambique
Green back and all yellow breast and belly
Subspecies atmorii is currently considered a synonym of capensis and therefore not recognized. Subspecies caniviridis is currently considered a synonym of nominate virens and therefore not recognized.
It was recently recognized that Z. virens has priority[5]. Orange River White-eye was formerly considered conspecific with this species.
Habitat
Forest, woodland, thickets, plantations, and gardens.
Behaviour
Diet
Feeds mainly on insects, but also soft fleshy flowers, nectar, fruit and small grains. It will come to bird feeders.
Breeding
Breeding season is September to December. Builds a cup nest in a tree, lays 2-3 pale blue eggs, which hatch in 11-12 days. Young fledge in 12-13 days.
Vocalisation
The call is a sweet twee tuuu twee twee, higher pitched and more trilled in the Orange River White-eye. The territorial call is very loud.
References
Clements, J. F., T. S. Schulenberg, M. J. Iliff, D. Roberson, T. A. Fredericks, B. L. Sullivan, and C. L. Wood. 2017. The eBird/Clements checklist of birds of the world: v2017, with updates to August 2017. Downloaded from http://www.birds.cornell.edu/clementschecklist/download/
del Hoyo, J. & Collar, N. (2018). Cape White-eye (Zosterops virens). In: del Hoyo, J., Elliott, A., Sargatal, J., Christie, D.A. & de Juana, E. (eds.). Handbook of the Birds of the World Alive. Lynx Edicions, Barcelona. (retrieved from https://www.hbw.com/node/1343955 on 18 June 2018).
Gill, F & D Donsker (Eds). 2018. IOC World Bird List (v8.1). doi : 10.14344/IOC.ML.8.1. Available at http://www.worldbirdnames.org/.
Oatley, G., Voelker, G., Crowe, T.M. & Bowie, R.C.K. (2012) A multi-locus phylogeny reveals a complex pattern of diversification related to climate and habitat heterogeneity in southern African white-eyes. Mol. Phylogenet. Evol. 64(3): 633–644.
Thompson, L.J. & Taylor, B. (2014) Is the Cape White-eye Zosterops virens or Zosterops capensis? Ostrich 85(2): 197–199.
Birdforum thread discussing taxonomy of Southern African White-eyes
del Hoyo, J., N. Collar, and G. M. Kirwan (2020). Cape White-eye (Zosterops virens), version 1.0. In Birds of the World (J. del Hoyo, A. Elliott, J. Sargatal, D. A. Christie, and E. de Juana, Editors). Cornell Lab of Ornithology, Ithaca, NY, USA. https://doi.org/10.2173/bow.capwhe2.01
Recommended Citation
External Links