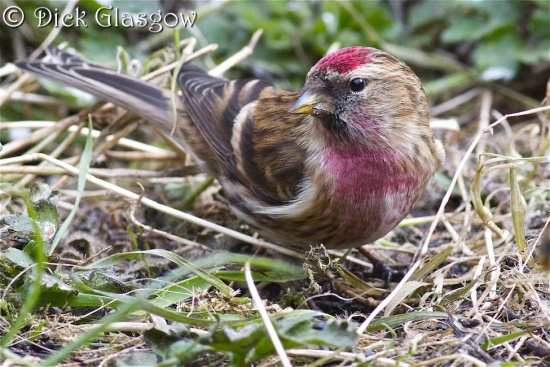 Acanthis cabaret
Identification
Small, brown, red forehead, small black bib and, in breeding males, red upper chests, pale underparts
Distribution
British Isles, Alps and mountains of Czechoslovakia. Introduced to New Zealand
Taxonomy
This is a monotypic species[1] It has recently been split from the Common (or Mealy) Redpoll, which is larger and paler.
Habitat
Birch and alder woods.
Behaviour
Diet
Diet includes small seeds, like alders, spruce, and birch. During the breeding season they also feed on insects.
Breeding
The female builds a small untidy cup nest of fine twigs and grass, lined with feathers and hair. Pale blue eggs with pale pink or lilac markings are laid and incubated by the female. The young are fed by both parents.
References
Clements, J. F., T. S. Schulenberg, M. J. Iliff, D. Roberson, T. A. Fredericks, B. L. Sullivan, and C. L. Wood. 2018. The eBird/Clements checklist of birds of the world: v2018. Downloaded from http://www.birds.cornell.edu/clementschecklist/download/
Angus, D.J. 2013. Redpoll. In Miskelly, C.M. (ed.) New Zealand Birds Online. http://www.nzbirdsonline.org.nz
Clement, P. (2017). Lesser Redpoll (Carduelis cabaret). In: del Hoyo, J., Elliott, A., Sargatal, J., Christie, D.A. & de Juana, E. (eds.). Handbook of the Birds of the World Alive. Lynx Edicions, Barcelona. (retrieved from http://www.hbw.com/node/61362 on 15 February 2017).
Fennell, J.F.M., Sagar, P.M. & Fennell, J.S. (1985) Variation within the Redpolls of Canterbury. Notornis 32:245-253.
Mason, N. A. and Taylor, S. A. (2015), Differentially expressed genes match bill morphology and plumage despite largely undifferentiated genomes in a Holarctic songbird. Mol Ecol, 24: 3009–3025. https://doi.org/10.1111/mec.13140
Recommended Citation
External Links