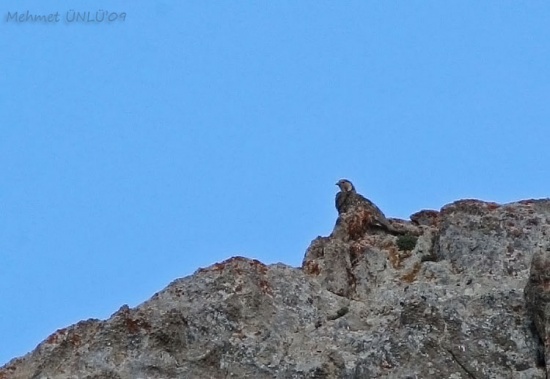 Tetraogallus caspius
Identification
56-63 cm
Its plumage is patterned with grey, brown, white and black, but this snowcock looks pale gray from any distance. The breast is pale gray, the throat and a white patch on the side of the neck are white, and the nape is dark gray. In flight, this wary bird shows white flight feathers and undertail. Male and female plumages are similar, but juveniles are slightly smaller and duller in appearance.
Distribution
Middle East and Asia
Middle East: Turkey, Iraq, Iran, Armenia, Azerbaijan and Georgia
Asia: Russia, and Turkmenistan
Taxonomy
Subspecies[1]
There are 2 subspecies:
Mountains of eastern Turkey, Turkmenistan, and Alborz mountains, North Khorassan mountains, Kopet dagh, Fyruza Mountain, Sahand and Sabalan Mountain in Iran.
T. c. semenowtianschanskii:
Zagros Mountains (south-western Iran)
An additional subspecies tauricus is generally considered invalid[2].
Habitat
Stony ground, alpine scrub 1800-3000m.
Behaviour
Breeding
Caspian snowcock breeds at altitudes from 1800-3000 m on bare stony ground with some alpine scrub.
It nests in a bare ground scrape and lays 6-9 greenish eggs, which are incubated only by the female.
Diet
The diet includes seeds and vegetables.
References
Clements, JF. 2010. The Clements Checklist of Birds of the World. 6th ed., with updates to December 2010. Ithaca: Cornell Univ. Press. ISBN 978-0801445019. Spreadsheet available at http://www.birds.cornell.edu/clementschecklist/Clements%206.5.xls/view
Avibase
Wikipedia
Recommended Citation
External Links