Overview
The Cassonsgrat is a high alpine ridge near Flims in the Swiss canton of Graubünden. It's one of the places in Switzerland where Eurasian Dotterel can be seen regularly and it used to be easy accessible by cablecar.
Birds
Notable species
Only between the 20th of August and the 10th of September Eurasian Dotterel can be found on the ridge. Other species you might encounter are Rock Ptarmigan, Northern Wheatear, Water Pipit, Alpine Accentor and White-winged Snowfinch. If you are in good condition and free from giddiness climb down on the track to Naraus. On the cliffs under the cablecar Wallcreeper can be found sometimes.
In the forests around Flims all mountain species can be found, including Boreal Owl, Eurasian Pygmy-Owl, Hazel Grouse, Citril Finch and many others. Look out for undisturbed forest with old, mature trees. As these species are very unpredictable it's worthless to give exact locations. Try for the owls in early spring in the night and for Hazel Grouse in autumn, when they are calling.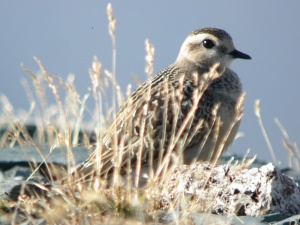 Check-list
Birds on Cassongrat and in the region of Flims: Birds you can see here include:
Eurasian Sparrowhawk, Northern Goshawk, Common Buzzard, Golden Eagle, Common Kestrel, Peregrine Falcon, Rock Ptarmigan, Black Grouse (rare), Western Capercaillie (very rare), Hazel Grouse (around Flims), Rock Partridge (rare), Eurasian Dotterel, Common Woodpigeon, Common Cuckoo, Pygmy Owl, Boreal Owl, Alpine Swift, Common Swift, Black Woodpecker, Green Woodpecker, Great Spotted Woodpecker, Eurasian Skylark, Eurasian Crag Martin, Barn Swallow, Northern House Martin, Water Pipit, Tree Pipit, Meadow Pipit, White Wagtail, Grey Wagtail, White-throated Dipper, Eurasian Wren, Dunnock, Alpine Accentor, European Robin, Black Redstart, Whinchat, Northern Wheatear, Ring Ouzel, Eurasian Blackbird, Fieldfare, Mistle Thrush, Garden Warbler, Lesser Whitethroat, Blackcap, Bonelli's Warbler, Common Chiffchaff, Goldcrest, Firecrest, European Pied Flycatcher, Spotted Flycatcher, Willow Tit, Crested Tit, Blue Tit, Great Tit, Coal Tit, Long-tailed Tit, Wood Nuthatch, Common Treecreeper, Wallcreeper, Red-backed Shrike, Common Starling, Spotted Nutcracker, Common Magpie, Alpine Chough, Common Raven, Carrion Crow, Eurasian Tree Sparrow, House Sparrow, White-winged Snowfinch, Chaffinch, Hawfinch, Citril Finch, European Serin, Eurasian Siskin, European Greenfinch, European Goldfinch, Eurasian Bullfinch, Lesser Redpoll, Eurasian Linnet, Common Crossbill, Yellowhammer
Other Wildlife
Mammals you will encounter are Marmot and Chamois and, if you are lucky, Ibex.
Site Information
History and Use
The Cassonsgrat is not protected and quite popular for tourists. Still most species are easy to find and relatively tame. In late august and september you will find mountaineers and walkers up there. Most of them show up after ten and birding gets harder then.
Areas of Interest
The whole ridge is an interesting place for birding. But a good strategy is to start on the left side (viewed from the station). Leave the station and go to the left, until you reach a flag. Scan now the ridge carefully. Usually the Dotterels are much closer than you think. If you don't have any luck to the left, try the plateau to the right of the station.
The forests around Flims are all interesting. You can try the forests north of Laax or the big forest to the south of Flims. Go early in the morning or at dusk.
Access and Facilities
Starting point is Flims, which you can reach by car from Chur or by bus from Chur. If you like to stay there are plenty of hotels and rooms in Flims. If coming with the bus leave at 'Flims Bergbahnen'.
From the mountain resort Flims you take a chair lift to Foppa, change there to the one to Naraus. The connection from Naraus to Cassonsgrat is no longer working, so from here you have to walk up (around 2 hours). Service starts at 8.30 and after about 30 minutes you can be on the ridge.
There are plans to build a new cable car up to Cassonsgrat, however this will take some time and the new connection will open in 2017 or 2018.
External Links
Content and images originally posted by Wintibird