Alternative name: Plush-capped Finch
Catamblyrhynchus diadema
Identification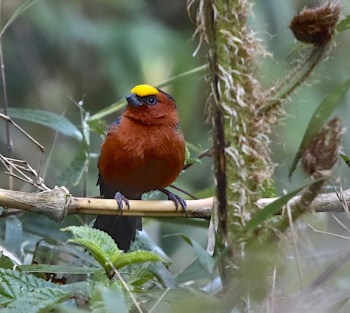 14cm (5½ in). A distinctive species.
Yellow forehead with stiff and plushy feathers
Blackish hindcrown and nape
Dusky lores
Bluish-grey upperparts and tail
Chestnut side of head, throat and underparts
Stubby bill
Sexes similar. Juveniles are very dull with dark grey forehead and forecrown and olive-greyish upperparts
Distribution
Found in the Andes of South America from Venezuela and Colombia south to Ecuador, Peru, Bolivia and northwest Argentina.
Uncommon to locally fairly common.
Taxonomy
In spite of the name, it is a member of the Tanager family (Thraupidae).
Subspecies
Three subspecies recorded[1]:
C. d. federalis in the coastal mountains of northern Venezuela
Habitat
Wet montane forest, second growth and elfin forest at or near tree-line. Mainly around Chusquea bamboo.
Occurs from 1800 to 3500m.
Behaviour
Diet
Feeds mostly on small insects and other arthropods. Takes probably some plant material.
A quite and inconspicuous species. Usually seen singly or in small groups, sometimes joining mixed-species flocks.
Forages mainly in lower half of forest, primarly in dense bamboo.
Breeding
Various breeding reports suggest breeding mainly in the west season. No other information on breeding.
Movements
Apparently a resident species.
References
Clements, J. F., T. S. Schulenberg, M. J. Iliff, D. Roberson, T. A. Fredericks, B. L. Sullivan, and C. L. Wood. 2017. The eBird/Clements checklist of birds of the world: v2017, with updates to August 2017. Downloaded from http://www.birds.cornell.edu/clementschecklist/download/
Del Hoyo, J, A Elliott, and D Christie, eds. 2011. Handbook of the Birds of the World. Volume 16: Tanagers to New World Blackbirds. Barcelona: Lynx Edicions. ISBN 978-8496553781
Recommended Citation
External Links