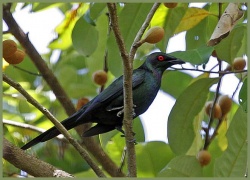 Genus: Aplonis
Description
Glossy Starlings native to Australasia and Pacific Ocean Islands. Several species from islands are extinct or close to extinction.
Most species have a glossy black plumage, the colours only seen from certain angles.
Their eyes are often red or yellow. Juveniles are generally streaked on the underparts.
Taxonomy
Aplonis is a genus in the family Sturnidae.
There is some controversy about the genus name which is sometimes also spelled Aplornis.
References
Clements, JF. 2009. The Clements Checklist of Birds of the World. 6th ed., with updates to December 2009. Ithaca: Cornell Univ. Press. ISBN 978-0801445019.
Del Hoyo, J, A Elliott, and D Christie, eds. 2009. Handbook of the Birds of the World. Volume 14: Bush-shrikes to Old World Sparrows. Barcelona: Lynx Edicions. ISBN 978-8496553507
Recommended Citation
Pages in category 'Aplonis'
The following 24 pages are in this category, out of 24 total.