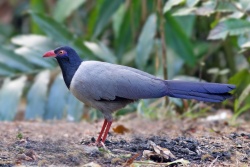 Genus: Carpococcyx
Description
Ground Cuckoos are found in south-east Asia and Indonesia.
They are fairly large, terrestrial cuckoos. All three species are shy and hard to see. The run away if disturbed.
They are no brood parasites.
Taxonomy
Carpococcyx is a genus in the Family Cuculidae.
References
Del Hoyo, J, A Elliot, and J Sargatal, eds. 1997. Handbook of the Birds of the World. Volume 4: Sandgrouse to Cuckoos. Barcelona: Lynx Edicions. ISBN 978-8487334221
Recommended Citation
Pages in category 'Carpococcyx'
The following 3 pages are in this category, out of 3 total.