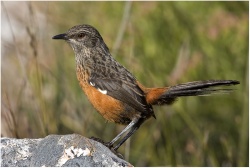 Family: Chaetopidae. Rockjumpers.
Description
This family contains the Rockjumpers from southern Africa:
Taxonomy
Chaetopidae is a family in the Order Passeriformes.
The Clements Checklist2 formerly placed Chaetops in the family Timaliidae. However, C. frenatus and C. aurantius are now considered to be more closely related to the rockfowl (genus Picathartes), and have been placed in the monogeneric family Chaetopidae. Molecular evidence indicates that this family diverged from the main Passerine tree about 45 million years ago, before the divergence of the Passerida into the superfamilies Muscicapoidea, Sylvioidea and Passeroidea1,3.
References
Beresford P, Barker FK, Ryan PG & Crowe TM. 2005. African endemics span the tree of songbirds (Passeri): molecular systematics of several evolutionary 'enigmas'. Proc. R. Soc. B 272, 849–858.
Clements JF. 2007. The Clements Checklist of Birds of the World. 6th ed., with updates to October 2008. Cornell University Press. ISBN 9780801445019
Hockey PAR, Dean WRJ & Ryan PG (eds) 2005. Robert's Birds of Southern Africa, 7th edition. John Voelcker Bird Book Fund, Cape Town, South Africa. ISBN 0620340533
Subcategories
This category has only the following subcategory.
C