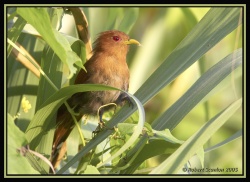 Genus: Coccycua
Description
Includes three of the smaller new world cuckoos.
They aren't brood parasites.
Taxonomy
Coccycua if recognized is a genus in the Family Cuculidae.
The AOU have recognized this genus as home for Little Cuckoo since the 47th supplement. Little Cuckoo was before placed in genus Piaya, the other two species in Coccyzus or Micrococcyx.
References
Pages in category 'Coccycua'
The following 3 pages are in this category, out of 3 total.