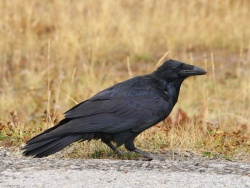 Family: Corvidae
Description
Around 125 species of crows, jays and magpies are found worldwide. They inhabit all continents except Antarctica.
Basic features of the corvids are:
long tarsi
stiffened primaries and tail feathers
tuft of nasal bristles extending to the nostril opening
an unspotted juvenile plumage (except Crested Jay)
The body size in this family is quite variable. Ravens and crows can be quite large whereas jays and magpies are only medium-sized. The Common Raven is the largest passerine in the world, reaching 69 cm in length and 2 kg in weight. On the other hand the Dwarf Jay of Mexico with 20 cm and 40 g is the smallest corvid.
The corvids are one of the best-known avian groups and they have fascinated man for a long time. Images of them are found on cave wall paintings made by the early humans. Their curiosity, memory, attractive movement, varied vocalisations and ecological plasticity have intrigued people around the world.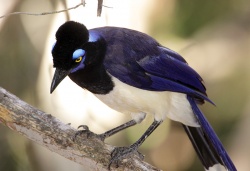 Taxonomy
Corvidae is a family in the order Passeriformes.
Studies indicate that the family is monophyletic which means that all corvids have the same ancestor. This species lived most probably in today's Australia some 53 million years ago.
The relationsship within the other avian families has been discussed for a long time. New work indicate that the Birds-of-paradise are the sister-group of the corvids and that the Bowerbirds, the Shrikes and the Vireos are also closely related to them.
The taxonomic placement of the Crested Jay is still unsure and it may not be a corvid at all.
References
Clements, JF. 2009. The Clements Checklist of Birds of the World. 6th ed., with updates to December 2009. Ithaca: Cornell Univ. Press. ISBN 978-0801445019.
Del Hoyo, J, A Elliott, and D Christie, eds. 2009. Handbook of the Birds of the World. Volume 14: Bush-shrikes to Old World Sparrows. Barcelona: Lynx Edicions. ISBN 978-8496553507
Recommended Citation
Subcategories
This category has the following 31 subcategories, out of 31 total.