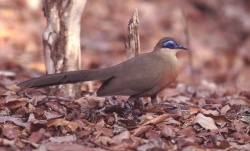 Genus: Coua
Description
This genus is endemic to Madagascar.
These birds are rather large, have a soft and lax plumage with dove-like brown and rufous colours (except Blue Coua).
They share large feet, a long tail and colourful bare skin around the eye. Many species have long eyelashes.
Most Couas are terrestrial and as most species in this family they aren't brood parasites.
Taxonomy
Coua is a genus in the Family Cuculidae.
They are probably closely related to the Orld World ground-cuckoos and the malkohas.
References
Clements, J. F., T. S. Schulenberg, M. J. Iliff, B.L. Sullivan, C. L. Wood, and D. Roberson. 2013. The eBird/Clements checklist of birds of the world: Version 6.8., with updates to August 2013. Downloaded from http://www.birds.cornell.edu/clementschecklist/download/
Del Hoyo, J, A Elliot, and J Sargatal, eds. 1997. Handbook of the Birds of the World. Volume 4: Sandgrouse to Cuckoos. Barcelona: Lynx Edicions. ISBN 978-8487334221
Recommended Citation
Pages in category 'Coua'
The following 10 pages are in this category, out of 10 total.