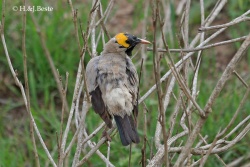 Genus: Creatophora
Description
This genus contains only one African species.
The breeding male has conspicous black wattles on the head.
Taxonomy
Creatophora is a genus in the family Sturnidae.
References
Clements, JF. 2009. The Clements Checklist of Birds of the World. 6th ed., with updates to December 2009. Ithaca: Cornell Univ. Press. ISBN 978-0801445019.
Del Hoyo, J, A Elliott, and D Christie, eds. 2009. Handbook of the Birds of the World. Volume 14: Bush-shrikes to Old World Sparrows. Barcelona: Lynx Edicions. ISBN 978-8496553507
Recommended Citation
Pages in category 'Creatophora'
This category contains only the following page.