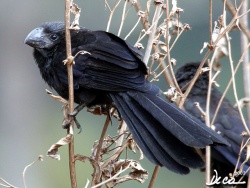 Family: Crotophagidae
Description
This family would contain the three Anis of the genus Crotophaga and the Guira Cuckoo from the genus Guira.
All three Anis are black and have laterally compressed bills which among lay people have earned them the name of "black parrot". Guira Cuckoo is also called White Ani.
They all live in flocks and breed cooperatively or in loose colonies. All species are found in South America, Central America and partially also in North America.
Taxonomy
Crotophagidae is a family in the order Cuculiformes.
It's usually included in the family Cuculidae.
References
Del Hoyo, J, A Elliot, and J Sargatal, eds. 1997. Handbook of the Birds of the World. Volume 4: Sandgrouse to Cuckoos. Barcelona: Lynx Edicions. ISBN 978-8487334221
Recommended Citation
This category currently contains no pages or media.