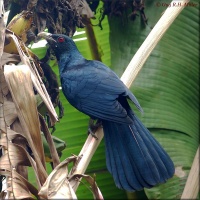 Genus: Eudynamys
Description
Three species of Koel from Asia and Australasia.
Males have a glossy black plumage, females are brownish with bars.
All species are brood parasites.
Taxonomy
Eudynamys is a genus in the Family Cuculidae.
Taxonomy and species limits in this genus are under debate. Long-tailed Koel is also sometimes placed in this genus.
References
Del Hoyo, J, A Elliot, and J Sargatal, eds. 1997. Handbook of the Birds of the World. Volume 4: Sandgrouse to Cuckoos. Barcelona: Lynx Edicions. ISBN 978-8487334221
Recommended Citation
Pages in category 'Eudynamys'
The following 3 pages are in this category, out of 3 total.