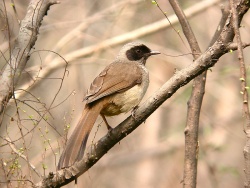 Genus: Garrulax
Description
This genus contains Laughingthrushes from Asia. These are medium-sized, thrush-like babblers with soft fluffy plumage. They are usually terrestrial. Like other babblers they have short rounded wings. The highest diversity is found in the Himalayas and Southern China.
Taxonomy
Garrulax is a genus in the family Leiothrichidae.
It was formerly included in the family Timaliidae.
New research showed that this genus is highly polyphyletic and should be split into different genera and re-arranged within the Timaliidae. Already accepted are the genera Trochalopteron, Ianthocincla and Pterorhinus.
Other proposed new genera would be Dryonastes, Melanocichla, Rhinocichla, Grammatoptila, Stactocichla, Leucodioptron, and Strophocincla. 1,3.
References
Del Hoyo, J, A Elliott, and D Christie, eds. 2007. Handbook of the Birds of the World. Volume 12: Picathartes to Tits and Chickadees. Barcelona: Lynx Edicions. ISBN 978-8496553422
Clements, J. F., T. S. Schulenberg, M. J. Iliff, B.L. Sullivan, C. L. Wood, and D. Roberson. 2013. The eBird/Clements checklist of birds of the world: Version 6.8., with updates to August 2013. Downloaded from http://www.birds.cornell.edu/clementschecklist/download/
Cibois, A. 2003. Mitochondrial DNA phylogeny of babblers (Timaliidae). In The Auk, January 2003. Downloaded from http://findarticles.com/p/articles/mi_qa3793/is_200301/ai_n9225604 on 4/8/2008
Recommended Citation
Pages in category 'Garrulax'
The following 43 pages are in this category, out of 43 total.