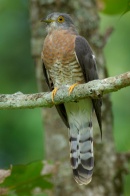 Genus: Hierococcyx
Description
Typical Hawk-Cuckoos, seven species from Asia.
They strongly resemble hawks in their plumage, their shape and also their direct and swift flight. This may elicit mobbing from the host species and so aid the cuckoo in finding the nests of the hosts.
Taxonomy
Hierococcyx is a genus in the Family Cuculidae.
Some authorities include it in the genus Cuculus. Sulawesi Cuckoo is sometimes included in this species.
References
Del Hoyo, J, A Elliot, and J Sargatal, eds. 1997. Handbook of the Birds of the World. Volume 4: Sandgrouse to Cuckoos. Barcelona: Lynx Edicions. ISBN 978-8487334221
Recommended Citation
Pages in category 'Hierococcyx'
The following 8 pages are in this category, out of 8 total.