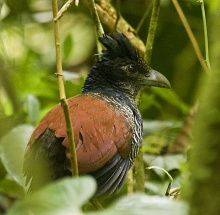 Genus: Neomorphus
Description
Ground Cuckoos from South America and Central America.
All species are highly terrestrial, shy and difficult to see.
Their ecology is poorly known.
Taxonomy
Neomorphus is a genus in the Family Cuculidae.
Scaled Ground Cuckoo is sometimes included in Rufous-vented Ground Cuckoo.
References
Clements, J. F., T. S. Schulenberg, M. J. Iliff, B.L. Sullivan, C. L. Wood, and D. Roberson. 2013. The eBird/Clements checklist of birds of the world: Version 6.8., with updates to August 2013. Downloaded from http://www.birds.cornell.edu/clementschecklist/download/
Del Hoyo, J, A Elliot, and J Sargatal, eds. 1997. Handbook of the Birds of the World. Volume 4: Sandgrouse to Cuckoos. Barcelona: Lynx Edicions. ISBN 978-8487334221
Recommended Citation
Pages in category 'Neomorphus'
The following 5 pages are in this category, out of 5 total.