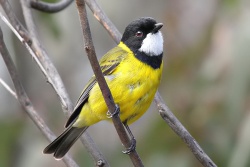 Family: Pachycephalidae
Description
Whistlers and allies are found in from southeast Asia east to Australia and New Zealand. Most species occur in New Guinea.
Most species have a large rounded head. Their wings are short and broad and the rictal bristles are generally short. Many species have dull or drab colours in plumage, often with little patterning.
Many species of this family have a loud, whistling voice.

Taxonomy
Pachycephalidae is a Family in the Order Passeriformes.

The Mohuas from New Zealand have been moved to this family recently but are now placed in their own family Mohouidae.
The species from the newly formed family Oreoicidae were also included here.
The Olive-flanked Whistler from Sulawesi has been included in this familiy in the past but is now moved to Hylocitreidae. The genus Pitohui has been moved to Oriolidae. Furthermore the genera Falcunculus is now placed in its own family Falcunculidae, Eulacestoma in Eulacestomatidae and Rhagologus in Rhagologidae.
References
Del Hoyo, J, A Elliott, and D Christie, eds. 2007. Handbook of the Birds of the World. Volume 12: Picathartes to Tits and Chickadees. Barcelona: Lynx Edicions. ISBN 978-8496553422
Clements, J. F., T. S. Schulenberg, M. J. Iliff, D. Roberson, T. A. Fredericks, B. L. Sullivan, and C. L. Wood. 2016. The eBird/Clements checklist of birds of the world: v2016, with updates to August 2016. Downloaded from http://www.birds.cornell.edu/clementschecklist/download/
Gill, F and D Donsker (Eds). 2014. IOC World Bird Names (version 4.3). Available at http://www.worldbirdnames.org/.
Recommended Citation
Subcategories
This category has the following 7 subcategories, out of 7 total.