Family: Paradisaeidae
Description
Birds-of-Paradise from Australia, New Guinea and some adjacent islands.
Most Birds-of-Paradise have a incredibly colourful plumage with elongated tail feathers, filamental flank plumes, breast shields, tail wires or elongated wire-like bare occipital plumes.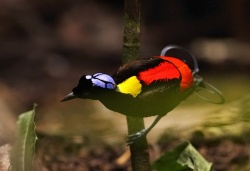 Females are usually smaller and duller and they lack elongated tail feathers or other specieal features.
The Paradise-crow and the Manucodes reproduce as socially monogamous pairs. All other species of this family are polygynous. Males advertise singly or in leks and perform spectacular poses and dances to attract females. The females build and attend the nest alone.
Due to the polygynous behaviour hybrids are recorded frequently.
Taxonomy
Paradisaeidae is a family in the Order Passeriformes.

The three species of the family Cnemophilidae were formerly included in this family.
The Melampittas are now placed in their own family (Melampittidae), too.
Macgregor's Honeyeater was long also belived to be a Bird-of-Paradise but is now placed within the family Meliphagidae.
References
Clements, J. F., T. S. Schulenberg, M. J. Iliff, D. Roberson, T. A. Fredericks, B. L. Sullivan, and C. L. Wood. 2016. The eBird/Clements checklist of birds of the world: v2016, with updates to August 2016. Downloaded from http://www.birds.cornell.edu/clementschecklist/download/
Del Hoyo, J, A Elliott, and D Christie, eds. 2009. Handbook of the Birds of the World. Volume 14: Bush-shrikes to Old World Sparrows. Barcelona: Lynx Edicions. ISBN 978-8496553507
Recommended Citation
Subcategories
This category has the following 17 subcategories, out of 17 total.