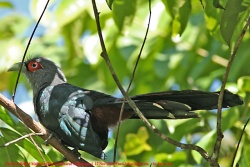 Genus: Phaenicophaeus
Description
Typical Malkohas from Asia (India and Sri Lanka to Indonesia).
Malkohas are nest-building cuckoos with short, curved wings and long tails.
Taxonomy
Phaenicophaeus is a genus in the Family Cuculidae.
Some species have been moved to Rhinortha, Ceuthmochares, Taccocua, Zanclostomus, Rhamphococcyx and Dasylophus.
The malkohas are most closely related to the Old World parasitic cuckoos.
References
Del Hoyo, J, A Elliot, and J Sargatal, eds. 1997. Handbook of the Birds of the World. Volume 4: Sandgrouse to Cuckoos. Barcelona: Lynx Edicions. ISBN 978-8487334221
Recommended Citation
Pages in category 'Phaenicophaeus'
The following 6 pages are in this category, out of 6 total.