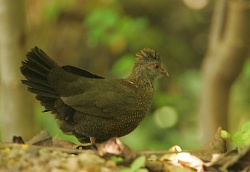 Genus: Ptilopachus
Description
Ttwo species of Francolins/Partridges from Africa.
Taxonomy
Ptilopachus is a monotypic genus in the family Odontophoridae.
It was formerly placed in the family Phasianidae and Nahan's Francolin was placed in the genus Francolinus.
References
Clements, J. F., T. S. Schulenberg, M. J. Iliff, B.L. Sullivan, C. L. Wood, and D. Roberson. 2013. The eBird/Clements checklist of birds of the world: Version 6.8., with updates to August 2013. Downloaded from http://www.birds.cornell.edu/clementschecklist/download/
Birdforum thread discussing issues in Galliform taxonomy
Pages in category 'Ptilopachus'
The following 2 pages are in this category, out of 2 total.