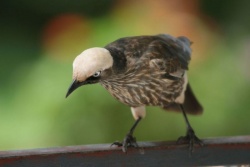 Genus: Spreo
Description
Some authorities place several African Starlings in this genus:
All have a greyish-white plumage and pale eyes.
Taxonomy
Spreo would be a genus in the family Sturnidae.
All species are now usually included in the genus Lamprotornis.
References
Clements, J. F., T. S. Schulenberg, M. J. Iliff, D. Roberson, T. A. Fredericks, B. L. Sullivan, and C. L. Wood. 2015. The eBird/Clements checklist of birds of the world: v2015, with updates to August 2015. Downloaded from http://www.birds.cornell.edu/clementschecklist/download/
Del Hoyo, J, A Elliott, and D Christie, eds. 2009. Handbook of the Birds of the World. Volume 14: Bush-shrikes to Old World Sparrows. Barcelona: Lynx Edicions. ISBN 978-8496553507
Recommended Citation
This category currently contains no pages or media.