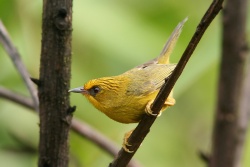 Family: Timaliidae. Tree-Babblers, Scimitar-Babblers, and Allies.
Description
The Old World babblers are a large, highly variable family of Old World passerine birds. Typical features of this family are:1
Similar sexes
Short, rounded wings
Juveniles generally lacking the spotting characteristic of thrushes and chats
Tendency to longer, rounded tail
Generally stout bill and legs
Often soft, fluffy plumage.
Babblers are found in Asia.
Taxonomy
Timaliidae is a family in the Order Passeriformes.
This family has long been said to be a dustbin for taxonomists, where they would place any bird with uncertain affinities. However, recent work, particulary by A. Cibois, has revealed more information about this complex family. A major revision has occured and only a few genera remained in this family. The families Pnoepygidae (Cupwings), Pellorneidae (Fulvettas and Ground Babblers) and Leiothrichidae (Laughingthrushes) have been split from the Timaliidae.
Other genera have been moved to various other families, including Sylviidae, Bernieridae, Vangidae, Zosteropidae, Promeropidae and even Vireonidae.
References
Del Hoyo, J, A Elliott, and D Christie, eds. 2007. Handbook of the Birds of the World. Volume 12: Picathartes to Tits and Chickadees. Barcelona: Lynx Edicions. ISBN 978-8496553422
Clements, JF. 2011. The Clements Checklist of Birds of the World. 6th ed., with updates to August 2011. Ithaca: Cornell Univ. Press. ISBN 978-0801445019. Spreadsheet available at http://www.birds.cornell.edu/clementschecklist/downloadable-clements-checklist
Recommended Citation
Subcategories
This category has the following 13 subcategories, out of 13 total.