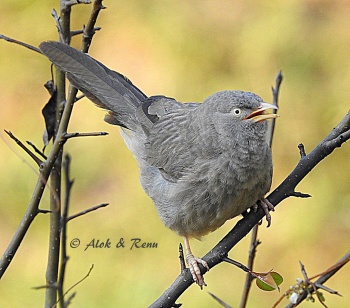 Genus: Turdoides
Description
This genus contains some 30 species, found in Africa, the Middle East and south Asia. They are often found in groups and occupy dry thorny open country from semi-desert with palm groves to open savanna and scrubby hillsides.
Turdoides-babblers have strong, point-tipped bills with both mandibles slightly decurved, short rictal bristles, firm short forehead feathering, a long tail and (with the exception of the Southern Pied-Babbler) pale or darker brown-grey backs and breast, sometimes with some streaking.
Taxonomy
Turdoides is a genus in the Family Leiothrichidae.
It was formerly included in the family Timaliidae.
The Spiny Babbler is sometimes placed in its own genus, Acanthoptila, but more study is needed to confirm this treatment. Ten species with longer, more graduated tails, longer slenderer bills and more rounded wings that used to be included in Turdoides is now placed in the genus Argya but further data might move two more species there (White-throated Babbler and Slender-billed Babbler).
References
Del Hoyo, J, A Elliott, and D Christie, eds. 2007. Handbook of the Birds of the World. Volume 12: Picathartes to Tits and Chickadees. Barcelona: Lynx Edicions. ISBN 978-8496553422
Clements, JF. 2011. The Clements Checklist of Birds of the World. 6th ed., with updates to August 2011. Ithaca: Cornell Univ. Press. ISBN 978-0801445019. Spreadsheet available at http://www.birds.cornell.edu/clementschecklist/downloadable-clements-checklist
Recommended Citation
Pages in category 'Turdoides'
The following 30 pages are in this category, out of 30 total.