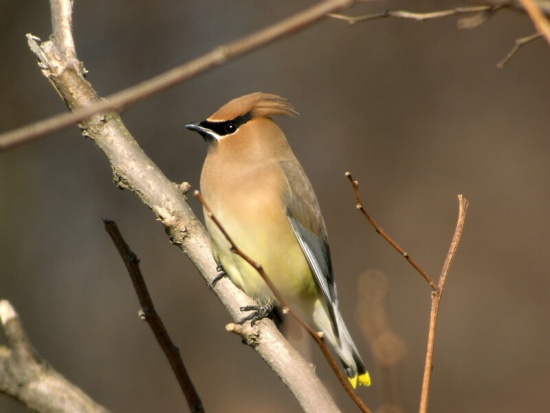 Bombycilla cedrorum
Identification
15·5 cm (6 in)
A sleek, crested, brown bird with black mask, yellow tips on tail feathers, and hard red wax-like tips on secondary wing feathers.
Similar Species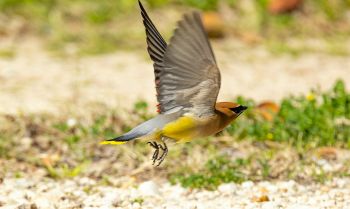 Bohemian Waxwing: Cedar Waxwing lacks the yellow and white markings on the wings.
Distribution
Breeds from southeastern Alaska east to Newfoundland and south to California, Illinois, and Virginia. Winters from British Columbia, Great Lakes region, and New England southward to the Caribbean and northern South America.
Taxonomy
This is a monotypic species[1].
Habitat
Open woodlands, orchards, and residential areas.
Behaviour
Highly gregarious for much of the year.
Diet
Their main diet consists of berries and fruits, with insects in the spring months.
Breeding
The 4-6 blue-grey eggs, have dark brown and black spots. They are laid in a bulky cup of twigs and grass placed in a tree in the open.
Vocalisation
Voice is a thin lisp, tseee, rather like Bohemian, but thinner and more quavering.
Gallery
Click on photo for larger image
References
Clements, J. F., T. S. Schulenberg, M. J. Iliff, S. M. Billerman, T. A. Fredericks, B. L. Sullivan, and C. L. Wood. 2019. The eBird/Clements Checklist of Birds of the World: v2019. Downloaded from http://www.birds.cornell.edu/clementschecklist/download/
Peterson, RT, G Mountfort and PAD Hollom. 1993. Collins Field Guide – Birds of Britain and Europe, 5th Revised edition. London: HarperCollins Publishers. ISBN 978-0002199001
Witmer, M. C., D. J. Mountjoy, and L. Elliott (2020). Cedar Waxwing (Bombycilla cedrorum), version 1.0. In Birds of the World (A. F. Poole, Editor). Cornell Lab of Ornithology, Ithaca, NY, USA. https://doi.org/10.2173/bow.cedwax.01
Recommended Citation
External Links
Search the Gallery using the scientific name:

Search the Gallery using the common name:
GSearch checked for 2020 platform.