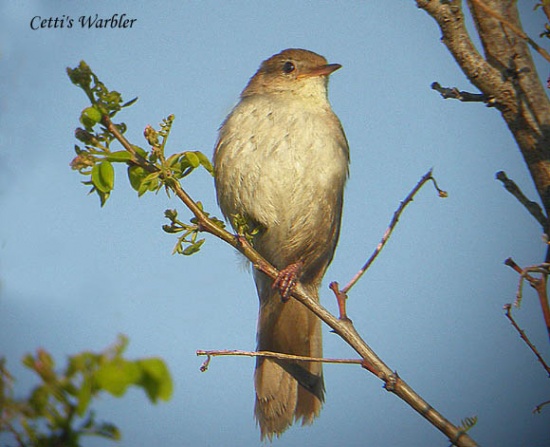 Identification
13·5–14·5 cm (5¼-5¾)

Rufous upperparts and tail
Greyish-white underparts
Pale supercillium
Dark eyestripe
Broad rounded tail

Sexes and young similar
Distribution
Found in south-western and southern Europe, North Africa and east over Turkey, Iran, Afghanistan and Pakistan to western Xinjiang (China).
Mainly resident, but migratory in East.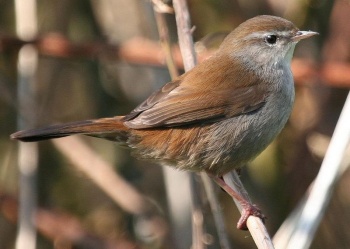 Taxonomy
Subspecies
There are 3 subspecies[1]:
A fourth subspecies, sericea, is not recognised by all authorities[2]
Habitat
Breeds in dense, rather tall and often well-delimited vegetation, preferably near but not in water, e.g. in drier tall reeds with scattered bushes, stands of papyrus, willow, bamboo, various thick bushes etc.; sometimes breeds near human habitation, in thickly wooded parkland, beside reservoirs and canals etc.
Behaviour
Generally keeps concealed in vegetation, often hops on ground or low down in shrubbery.
Diet
The diet consists mostly of insects including damselflies, earwigs, moth larvae and aphids.
Breeding
Sometimes Monogomous but more usually polygamous. Nests low down in dense vegetation. The 3-6 eggs are laid in a nest which is built in a bush near water.
References
Clements, J. F., T. S. Schulenberg, M. J. Iliff, D. Roberson, T. A. Fredericks, B. L. Sullivan, and C. L. Wood. 2015. The eBird/Clements checklist of birds of the world: v2015, with updates to August 2015. Downloaded from http://www.birds.cornell.edu/clementschecklist/download/
Avibase
Handbook of the Birds of the World Alive (retrieved January 2016)
BF Member observations
Collins Bird Guide ISBN 0 00 219728 6
Recommended Citation
External Links
GSearch checked for 2020 platform.