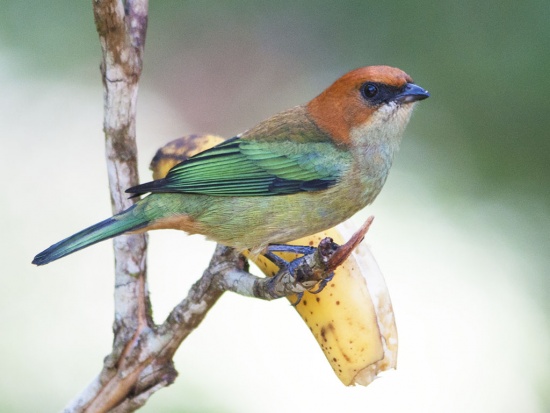 Tangara preciosa
Identification
14 cm
Male: sides of head and crown golden-rufous, mantle more coppery-rufous, back and rump yellowish, tail and wings black with blue edges, wing coverts described as white or pale buff in different sources. Most of underside is blue-green, with yellowish on central belly and undertail coverts dark buff. In the head, lores are black and continues around the eye, and malar is inconspicuously yellow.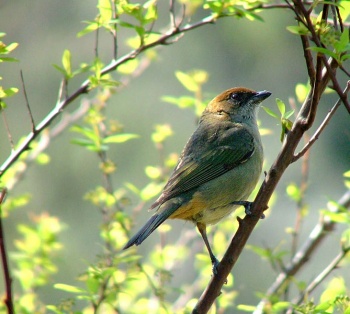 Female: Greenish upperside (including wings and tail) gradually changes to rufous crown, underside is a paler version of upperside but undertail coverts are washed cinnamon.
Similar species
Notice especially Black-backed Tanager with a virtually identical female but different color on the mantle of the male.
Distribution
South America: found in eastern Paraguay to south-eastern Brazil (north to São Paulo), Uruguay and north-eastern Argentina.
Taxonomy
This is a monotypic species[1].
Habitat
Forests and edges, at least to 1000 m asl.
Behaviour
Southernmost populations are believed to move north in winter.
Eats a variety of fruits including domesticated species but also searches for insects in canopy. Readily joins mixed species flocks.
References
Clements, J. F., T. S. Schulenberg, M. J. Iliff, S. M. Billerman, T. A. Fredericks, B. L. Sullivan, and C. L. Wood. 2019. The eBird/Clements Checklist of Birds of the World: v2019. Downloaded from http://www.birds.cornell.edu/clementschecklist/download/
Ber van Perlo. 2009. A field guide to the Birds of Brazil. Oxford University Press, New York, NY, USA. ISBN 978-0-19-530155-7
Hilty, S. (2020). Chestnut-backed Tanager (Stilpnia preciosa), version 1.0. In Birds of the World (J. del Hoyo, A. Elliott, J. Sargatal, D.A. Christie, and E. de Juana, Editors). Cornell Lab of Ornithology, Ithaca, NY, USA. https://doi.org/10.2173/bow.chbtan1.01
BF member observations
Recommended Citation
External Links