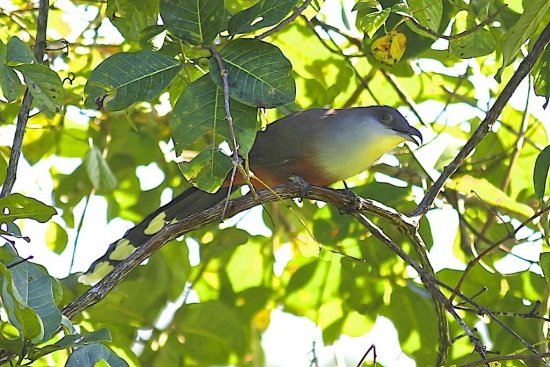 Alternative names: Old Man Bird; Hunter
Coccyzus pluvialis
Identification
50cm. A large cuckoo.
Dull brown upperparts
Light grey face and breast, paler throat
Black orbital skin
Red to brown eye
Heavy, thick and decurved blackish bill
Dark rufous belly
Long, purple-glossed black tail with broad white tips
Sexes similar. Juveniles with unglossed dark brown tail but already with broad white tips.
Distribution
Caribbean: endemic to Jamaica.
An uncommon and poorly known restricted-range species.
Taxonomy
This is a monotypic species[1].
Was formerly placed in genus Hyetornis.
Habitat
Moist lowland tropical forests. Also in secondary forest, thickets in open areas and woodland. From lowlands up to 1500m.
Behaviour
Diet
Feeds on lizards, insects, mice, caterpillars, nestlings and eggs.
Forages in the middly storey and canopy of the forest.
Breeding
The nest is a shallow saucer made of twigs and placed in a tree. Lays 2 to 4 eggs.
Movements
A resident species. Moves to lower elevations in winter.
References
Clements, J. F., T. S. Schulenberg, M. J. Iliff, B.L. Sullivan, C. L. Wood, and D. Roberson. 2013. The eBird/Clements checklist of birds of the world: Version 6.8., with updates to August 2013. Downloaded from http://www.birds.cornell.edu/clementschecklist/download/
Del Hoyo, J, A Elliot, and J Sargatal, eds. 1997. Handbook of the Birds of the World. Volume 4: Sandgrouse to Cuckoos. Barcelona: Lynx Edicions. ISBN 978-8487334221
Recommended Citation
External Links