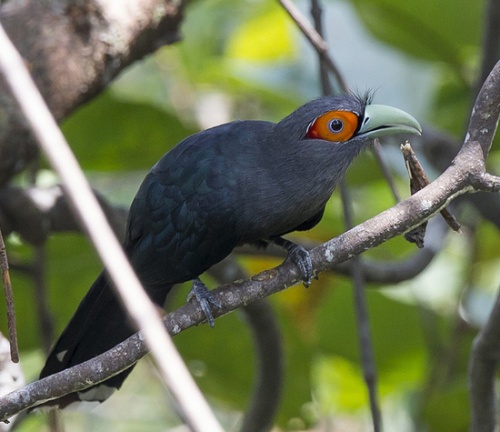 Phaenicophaeus sumatranus
Identification
40–41 cm (15¾-16 in)
Dark grey back and underparts
Large orangy-red eye ring
Chestnut belly
Dull turquoise wings
Greenish-grey bill
Distribution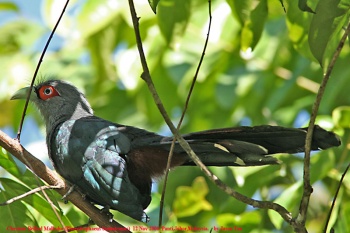 South-east Asia: found in southern Myanmar, southern Thailand, Malay Peninsula, Sumatra and Borneo.
Taxonomy
This species is often seen as monotypic[1], however, some authorities recognize three subspecies: sumatranus, minor, and rodolphi[2].
Some authorities place it in a different genus as Rhopodytes sumatranus[2].
Habitat
Mangroves, broadleaved evergreen forest and forest edges up to 1,000m.
Behaviour
Breeding
The nest is a platform of twigs, placed in the fork of a tree.
Diet
The diet includes lizards, grasshoppers and caterpillars.
References
Clements, J. F., T. S. Schulenberg, M. J. Iliff, D. Roberson, T. A. Fredericks, B. L. Sullivan, and C. L. Wood. 2017. The eBird/Clements checklist of birds of the world: v2017, with updates to August 2017. Downloaded from http://www.birds.cornell.edu/clementschecklist/download/
Avibase
BESGroup
Handbook of the Birds of the World Alive (retrieved Mar 2018)
Recommended Citation
External Links