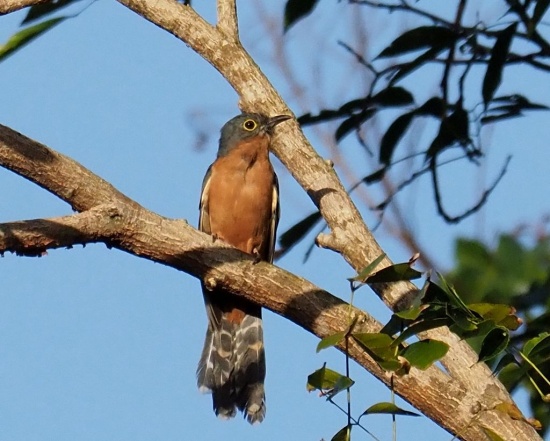 Identification
Slaty grey upperparts and wings
Darker grey head and tail
Chestnut underparts and throat
Thin white eye ring
Dark iris
Grey bill, legs and feet
Distribution
Found on New Guinea, adjacent islands (like Aru) and northeast Australia (eastern coast of Cape York and northeast Queensland).
Population status unclear as very few data available. Appears to be scarce to rare in Australia.
Taxonomy
Subspecies
There are 4 subspecies[1]:
Habitat
Mangrove and dry forests.
Occurs mainly from 1200m to 2100m, rarely lower.
Behaviour
Diet
Feeds on insects, mainly caterpillars.
Forages in the canopy, moving around or watching from a low perch.
Breeding
Breeding season from September to January in Australia. A brood parasitic. Known hosts are Grey-green Scrubwren and Tropical Scrubwren.
Movements
Resident in most of its range. In extreme south of range probably only a non-breeding visitor.
Vocalisation
A loud three-note mournful whistled "seei-to-seei". The first note is upslurred, the second shorter and the third upslurred and trilled. Voice
References
Clements, J. F., T. S. Schulenberg, M. J. Iliff, B.L. Sullivan, C. L. Wood, and D. Roberson. 2012. The eBird/Clements Checklist of Birds of the World. 6th ed., with updates to October 2012. Ithaca: Cornell Univ. Press. ISBN 978-0801445019. Spreadsheet available at http://www.birds.cornell.edu/clementschecklist/downloadable-clements-checklist
Del Hoyo, J, A Elliot, and J Sargatal, eds. 1997. Handbook of the Birds of the World. Volume 4: Sandgrouse to Cuckoos. Barcelona: Lynx Edicions. ISBN 978-8487334221
Avibase
Recommended Citation
External Links