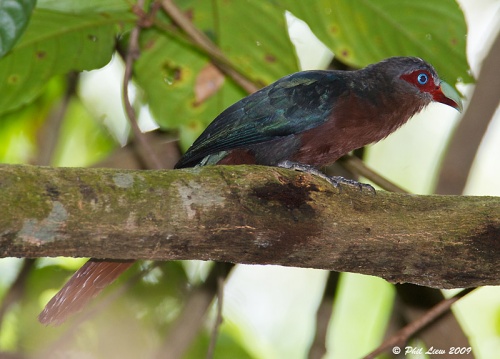 Phaenicophaeus curvirostris
Identification
Size:-35cm including tail
Has entire chestnut underparts and a lack of white tip to tail feathers. Upperparts dark iridescent green, including most of the uppertail. Has broad chestnut terminal band on upper tail. Sides of entire tail narrowly marked chestnut.
Orbital skin red.
Male - Pale blue eyes
Female-Eyes Golden to yellowish white
Distribution
Southeast Asia: found in Tenasserim (Myanmar) and the Malay Peninsula south to Greater Sundas, Java, Bali, Borneo and Palawan (Philippines).
Taxonomy
Subspecies
There are 6 subspecies[1]:
Mentawi Islands (off south-western Sumatra)
Southern Philippines (Palawan, Balabac, Busuanga, Culion, Calauit)
An additional subspecies erythrognathus is generally considered invalid[2].
Habitat
Mangroves (on Pulau Langkawi only), forests, forests edges, plantations and wooded gardens.
Behaviour
Usually found in pairs in the Middle storey. Sometimes forages low in dense scrub. Generally unobtrusive, perching for long periods in the foliage.
References
Clements, JF. 2009. The Clements Checklist of Birds of the World. 6th ed., with updates to December 2009. Ithaca: Cornell Univ. Press. ISBN 978-0801445019.
Avibase
Recommended Citation
External Links