Alternative names: Violet-backed Starling; Red-cheeked Starling; Japanese Small Starling; Red-cheeked Myna
Agropsar philippensis
Sturnia philippensis, Sturnus philippensis
Identification
17cm. A small starling with a short tail.
Male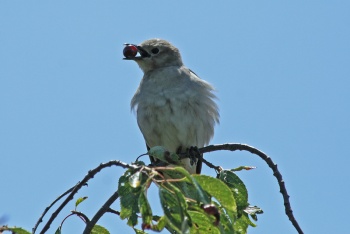 Buffy white forehead and neck, white chin and throat
Chestnut cheek and side of neck
Glossy violet back
Dark brown wing with white median coverts and outer secondaries white at base
Black tail with green gloss
Pale grey breast and flanks, belly whitish
Buffy salmon on lower belly and undertail-coverts
Grey or blackish bill
Female
Duller than male and without chestnut cheeks
Buffy grey crown and back
Ochre rump
Buffy white underparts
Dark brown wings
Dark brown tail
Juveniles undescribed.
Distribution
Breeds on south Sakhalin Island (Russia), northern Japan and several small islands in the Sea of Japan (like Askold Island, off Vladivostok). Winters on Ryukyu Islands (Japan), the Philippines and northern Borneo.
Fairly common in Japan, uncommon in other parts.

Taxonomy
This is a monotypic species.
May form a superspecies with Daurian Starling.
It has been placed in the genus Sturnia and in Sturnus.
Habitat
During breeding season in open mixed deciduous woodland, parks, villages and agricultural land, mainly in lowlands.
In winter in open country and cities.
Behaviour
Feeds on insects and fruit.
Seen in pairs or small groups in summer, in larger flocks in winter.
Breeding season from May to July. A monogamous species. The nest is placed in a tree hole or a hole in a building or in a nestbox. Lays 5 eggs.
References
Clements, J. F., T. S. Schulenberg, M. J. Iliff, D. Roberson, T. A. Fredericks, B. L. Sullivan, and C. L. Wood. 2015. The eBird/Clements checklist of birds of the world: v2015, with updates to August 2015. Downloaded from http://www.birds.cornell.edu/clementschecklist/download/
Birdwatch Philippines
Del Hoyo, J, A Elliott, and D Christie, eds. 2009. Handbook of the Birds of the World. Volume 14: Bush-shrikes to Old World Sparrows. Barcelona: Lynx Edicions. ISBN 978-8496553507
BF Member observations
Recommended Citation
External Links