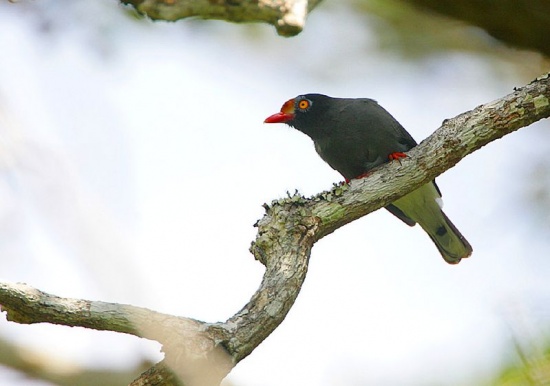 Prionops scopifrons
Identification
Length 16-18 cm. A dark grey helmetshrike with a chestnut forehead of short, stiff feathers. Bill, legs and feet red; eye wattle blue.
Distribution
East Africa: Southern Somalia, Kenya, Tanzania, Mozambique and Zimbabwe.
Taxonomy
There are three subspecies:1
Habitat
This species favours mature Brachystegia forest through which they constantly wander.
Behaviour
They move in large mobile mixed-species feeding flocks which include scimitarbills, Retz's Helmetshrike, monarch flycatchers, honeyguides and in Arabuko-Sokoke forest the rare and very localised Clarke's Weaver.
Breeding
These live in family groups. Members within the clan assist the dominate pair in rearing their young.
References
Clements, JF. 2009. The Clements Checklist of Birds of the World. 6th ed., with updates to December 2009. Ithaca: Cornell Univ. Press. ISBN 978-0801445019.
Hockey, PAR, WRJ Dean, and PG Ryan, eds. 2005. Roberts' Birds of Southern Africa. 7th ed. Cape Town: John Voelcker Bird Book Fund. ISBN 978-0620340533
BF Member observations
Recommended Citation
External Links