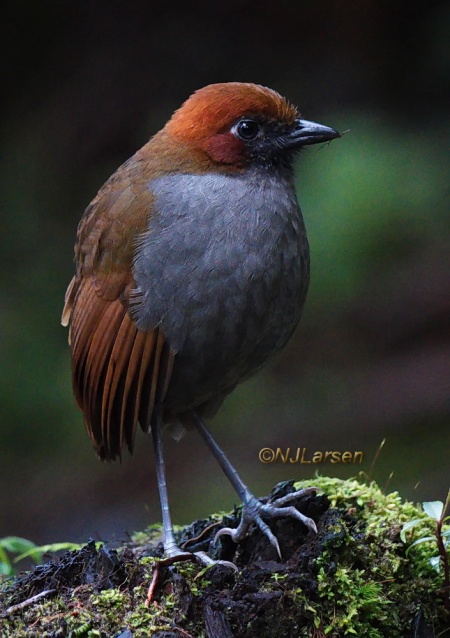 Grallaria nuchalis
Identification
Chestnut crown
White triangle of white skin behind eye
Reddish-brown back
Blackish throat
Dark grey underparts
Variation
Northern bird have darker underside and most of upperside darker than southern birds.
Distribution
South America: found along the Andes in Colombia, Ecuador, and Peru.
Taxonomy
Subspecies
There are 3 subspecies[1]:
Colombia (Central Andes and western slope of Eastern Andes)
Western slope of Andes of north-western Ecuador (Imbabura and Pichincha)
Habitat
Moist montane forests at 1900-3100 m asl. Almost always in or near dense bamboo.
Behaviour
Mostly hops on ground. Food includes a variety of invertebrates.
Vocalizations
Song varies among subspecies
References
Clements, J. F., T. S. Schulenberg, M. J. Iliff, S. M. Billerman, T. A. Fredericks, B. L. Sullivan, and C. L. Wood. 2019. The eBird/Clements Checklist of Birds of the World: v2019. Downloaded from http://www.birds.cornell.edu/clementschecklist/download/
Ridgely, R.S., & P.J. Greenfield (2001). "The Birds of Ecuador - Field Guide". Comstock/Cornell Paperbacks. ISBN 978-0-8014-8721-7
Schulenberg, T. S. & Stotz, D. F. & Lane, D. F. & O'Neill, J. P. & Parker III, T. A. & Egg, A. B. (2010). Birds of Peru: Revised and Updated Edition. Princeton: Princeton University Press. ISBN 978-0691130231
Krabbe, N. and T. S. Schulenberg (2020). Chestnut-naped Antpitta (Grallaria nuchalis), version 1.0. In Birds of the World (J. del Hoyo, A. Elliott, J. Sargatal, D. A. Christie, and E. de Juana, Editors). Cornell Lab of Ornithology, Ithaca, NY, USA. https://doi.org/10.2173/bow.chnant1.01
Recommended Citation
External Links