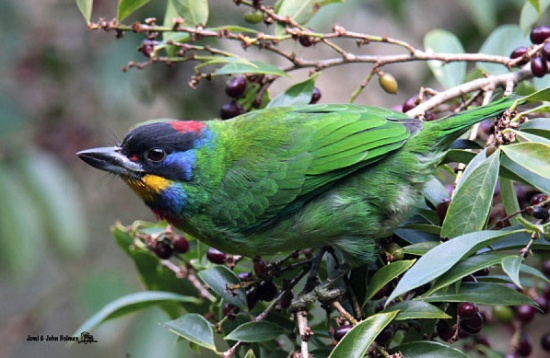 Psilopogon faber
Identification
20–21·5 cm (7¾-8½ in)
Green overall plumage
Red lores and nape
Yellowish-gold throat with blue border
Red on breast
Black eye stripe and upper malar
Distribution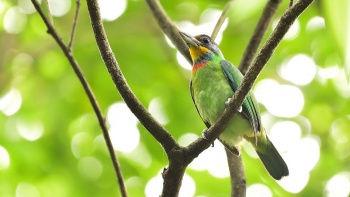 Southern China including Hainan.
Taxonomy
It was formerly considered to be a subspecies of Black-browed Barbet.
Sometimes placed in the genus Megalaima.
Subspecies
Two subspecies recognized[1]:
P. f. sini in southern China (Guangxi)
P. f. faber on Hainan
Habitat
Montane evergreen forests at heights over 250 m.
Behaviour
Very little is known about their diet, though it is likely to be similar to Taiwan Barbet and Black-browed Barbet
References
Clements, J. F., T. S. Schulenberg, M. J. Iliff, S. M. Billerman, T. A. Fredericks, B. L. Sullivan, and C. L. Wood. 2019. The eBird/Clements Checklist of Birds of the World: v2019. Downloaded from http://www.birds.cornell.edu/clementschecklist/download/
Avibase
del Hoyo, J., Collar, N. & Kirwan, G.M. (2019). Chinese Barbet (Psilopogon faber). In: del Hoyo, J., Elliott, A., Sargatal, J., Christie, D.A. & de Juana, E. (eds.). Handbook of the Birds of the World Alive. Lynx Edicions, Barcelona. (retrieved from https://www.hbw.com/node/467441 on 20 August 2019).
Recommended Citation
External Links