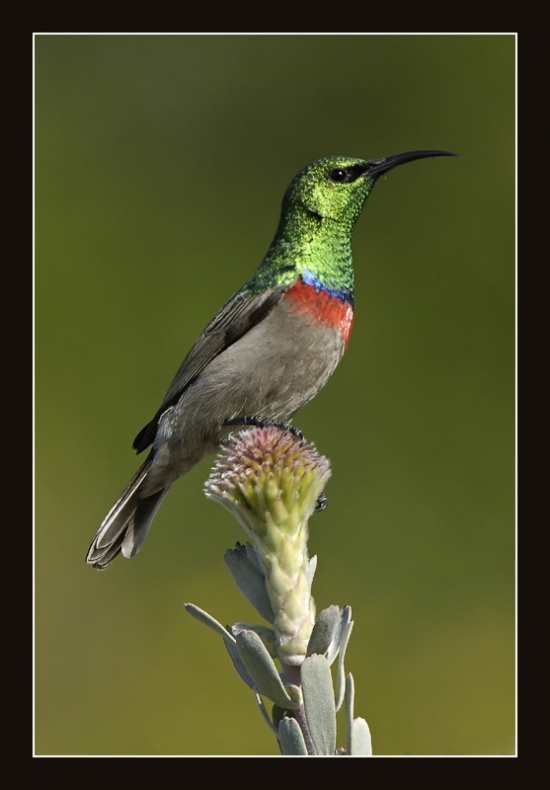 Nectarinia chalybea
Lesser Double-collared Sunbird
Identification
L. 12 cm (5"), mass 8 g.

Male
Head, back, rump, throat and upper breast iridescent green.
Wings iridecent green with dark brown flight feathers.
Upper tail coverts iridescent blue.
Upper breast band very narrow and iridescent blue
Lower breast band red.
Lower breast and belly grey.

Female
Grey-brown, with faint olive wash on mantle and wing coverts
Olive-yellow tinge on belly, flanks and vent.
Tail brownish black.
Eclipse Male
Mainly grey-olive but retaining a metallic sheen to the lesser wing-coverts and upperparts as well as isolated metallic feathers on its head and remnant of red breast-band.
Juvenile
Similar Species
Male is Similar to Greater Double-collared Sunbird but smaller with shorter bill and narrower red breast band.
Female is similar to female Orange-breasted Sunbird but is greyer below and darker than female Dusky Sunbird
Distribution
South Africa, eSwatini and extreme southern Namibia.
Taxonomy
This is a polytypic species. There are three subspecies.[1]
This species has been split from what later became the two Miombo Sunbirds with which it forms a superspecies. Most of the Sunbirds (including this one) formerly in the genus Nectarinia have been moved into the genus Cinnyris.
Habitat
Fynbos and Karoo shrublands, woodland, forest, forest edge, gardens and plantations.
Behaviour
Forages at all levels in canopy. A primary pollinator of the milkweed Microloma sagittatum.
Diet
Mainly nectar, but also invertebrates.
Breeding
Nest constructed by female, compact, oval or pear shaped, mostly made out of cobwebs and lined with feathers. One to three eggs incubated by female. Young fed by both parent.
Vocalisations
Harsh "cherr-cherr;" fast warbling rising and falling song.
References
Clements, J. F., T. S. Schulenberg, M. J. Iliff, S. M. Billerman, T. A. Fredericks, B. L. Sullivan, and C. L. Wood. 2019. The eBird/Clements Checklist of Birds of the World: v2019. Downloaded from http://www.birds.cornell.edu/clementschecklist/download/
Cheke, R. & Mann, C. (2018). Southern Double-collared Sunbird (Cinnyris chalybeus). In: del Hoyo, J., Elliott, A., Sargatal, J., Christie, D.A. & de Juana, E. (eds.). Handbook of the Birds of the World Alive. Lynx Edicions, Barcelona. (retrieved from https://www.hbw.com/node/60025 on 23 June 2018)
Dickinson, EC, ed. 2014. The Howard and Moore Complete Checklist of the Birds of the World. 4th ed. Princeton: Princeton Univ. Press. ISBN 978-0956861122
Gill, F & D Donsker (Eds). 2018. IOC World Bird List (v8.1). doi : 10.14344/IOC.ML.8.1. Available at http://www.worldbirdnames.org/.
Hockey, PAR, WRJ Dean, and PG Ryan, eds. 2005. Roberts' Birds of Southern Africa. 7th ed. Cape Town: John Voelcker Bird Book Fund. ISBN 978-0620340533
Sinclair, I., Hockey, P.A.R., and Arlott, N. (2005). The Larger Illustrated Guide to Birds of Southern Africa. Struik, Cape Town. ISBN 978-1775840992
Recommended Citation
External Links