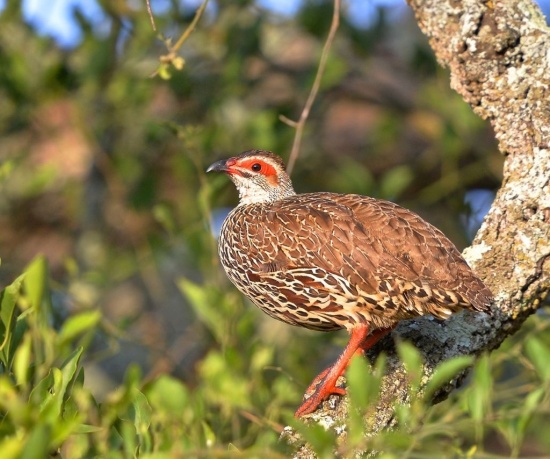 Pternistis clappertoni
Identification
32–35 cm
Similar Species
Yellow-necked Francolin and Heuglin's Francolin
Distribution
Sub-Saharan Africa
Western Africa: Mali, Nigeria, Niger, Chad, Cameroon, Central African Republic and Equatorial Guinea
Eastern Africa: Sudan, Eritrea, Ethiopia and Uganda.
Taxonomy
Formerly placed in genus Francolinus.
This is a monotypic species[1]. A number of subspecies are not recognised by most authorities[2].
Habitat
Grassland, rocky hillsides and dry, lightly wooded and bushed habitats
Behaviour
Can be seen in groups of up to 20 birds.
Diet
Their diet consist of berries and seeds; also insects and molluscs.
References
Clements, J. F., T. S. Schulenberg, M. J. Iliff, D. Roberson, T. A. Fredericks, B. L. Sullivan, and C. L. Wood. 2015. The eBird/Clements checklist of birds of the world: v2015, with updates to August 2015. Downloaded from http://www.birds.cornell.edu/clementschecklist/download/
Avibase
Handbook of the Birds of the World Alive (retrieved September 2014)
Collins Van Perlo
Recommended Citation
External Links