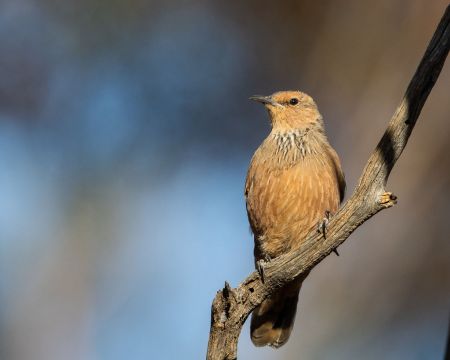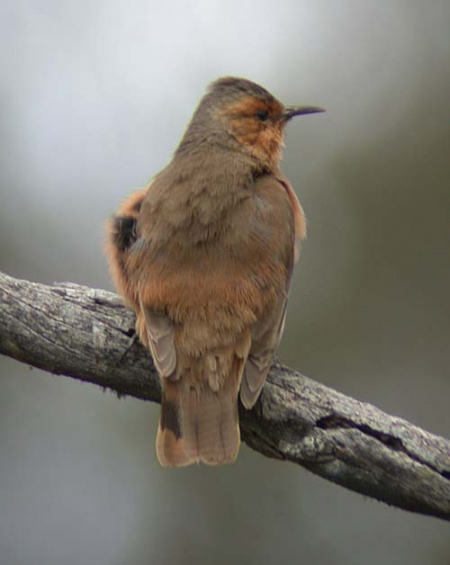 Alternative name: Allied Rufous Treecreeper
Climacteris rufus
Identification
16.5 - 18cm.
Rich cinnamon-rufous supercilium, cheek, ear-coverts, chin and throat
Thin dark grey-brown eyestripe
Light brownish-grey forehead, crown, hindneck and neck side, merging into darker olive-brown on mantle, back and upperwing-coverts
Rufous suffusion on rump and uppertail-coverts
Olive-brown tail with broad blackish subterminal band
Dull black flight-feathers with broad pale rufous-buff diagonal band across base
Cinnamon-rufous underparts with grey wash across breast and indistinct streaking
Female similar with reddish-chestnut (not black) edged streaks on upper breast.
Distribution
From southwestern Western Australia inland through Great Victoria Desert to northern Eyre Peninsula, South Australia.
Locally fairly common to common.
Taxonomy
This is a monotypic species.
Forms a superspecies with Brown Treecreeper and Black-tailed Treecreeper.
Habitat
Eucalypt forest. Jarrah fores and Malle in the southwest of Western Australia and north of the Nullarbor Plain into the Eyre Peninsula of South Australia.
Behaviour
Diet
Feeds on insects, mainly ants. Takes occasionally skinks, seeds and nectar.
Forages on tree trunks and branches and among litter and logs on the ground.
Breeding
Breeding season late August to early January, often two broods per season.
Breeds co-operatively with up to six helpers. The nest is a cup-shaped structure built with bark strips, dry grass and lined with feathers, fur, wool and sometimes rabbit or kangaroo dung. It's placed in a hollow branch, trunk or stump. Lays 1 to 3 eggs.
Movements
A sedentary species.
References
Clements, J. F., T. S. Schulenberg, M. J. Iliff, B.L. Sullivan, C. L. Wood, and D. Roberson. 2013. The eBird/Clements checklist of birds of the world: Version 6.8., with updates to August 2013. Downloaded from http://www.birds.cornell.edu/clementschecklist/download/
Del Hoyo, J, A Elliott, and D Christie, eds. 2007. Handbook of the Birds of the World. Volume 12: Picathartes to Tits and Chickadees. Barcelona: Lynx Edicions. ISBN 978-8496553422
Recommended Citation
External Links