Drepanoptila holosericea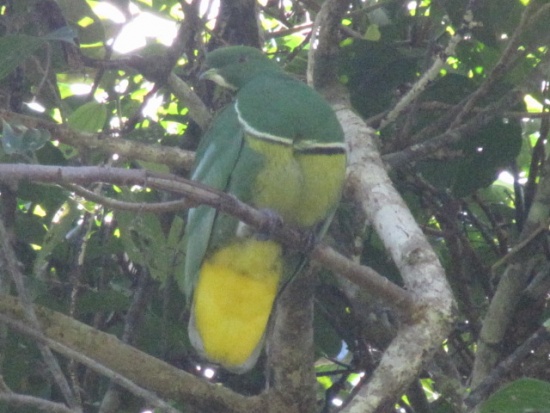 Identification
30-33cm
Green above
Dark green and white bands on wings and rump
Black and white breast patch
Yellow patch below
Yellow and grey underparts
Fluffy white anklets.
Distribution
Australasia: found in New Caledonia and Isle of Pines.
Taxonomy
This is a monotypic species[1].
Habitat
Humid lowland forests and savanna.
Behaviour
Diet
The diet includes grains and seeds.
References
Clements, JF. 2010. The Clements Checklist of Birds of the World. 6th ed., with updates to December 2010. Ithaca: Cornell Univ. Press. ISBN 978-0801445019. Spreadsheet available at http://www.birds.cornell.edu/clementschecklist/Clements%206.5.xls/view
Avibase
Earth's Endangered Creatures
Recommended Citation
External Links