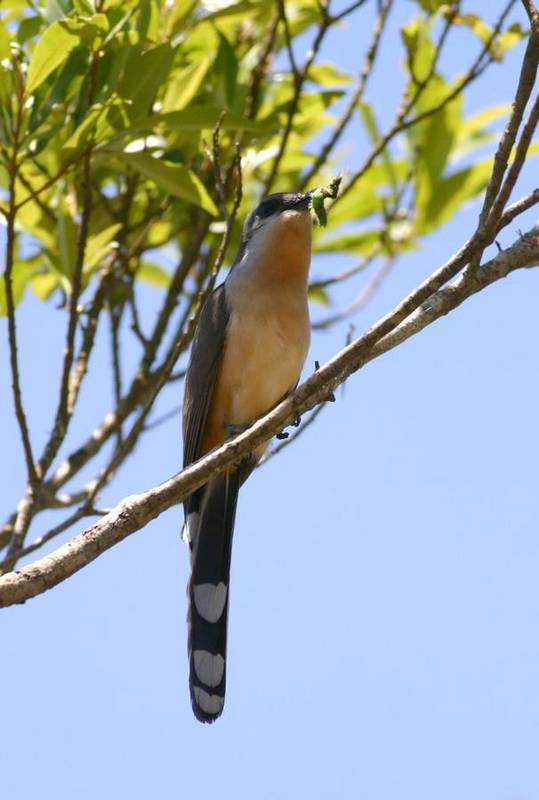 Coccyzus melacoryphus
Identification
26-30cm
Dull brown black upperparts
White underparts
Black eye mask
Red orbital eye ring
Long tail with white spotted edges
Dark iris
Black bill
Grey legs
Juvenile is duller overall but with more rufous wings.
Distribution
South America: found in Colombia, Venezuela, Guyana, Suriname, French Guiana, Ecuador, Peru, Bolivia, Brazil, Paraguay, Uruguay and Argentina.
Taxonomy
This is a monotypic species[1].
Habitat
Forests, agricultural land and wetlands.
Behaviour
They are not brood parasites. The nest is built by both sexes and both parents incubate the eggs and brood the young.
Vocalisation
Song: ka, ka, ka, ka, ka, kow, kowp, kowp, kowp, kowp.
References
Clements, JF. 2011. The Clements Checklist of Birds of the World. 6th ed., with updates to August 2011. Ithaca: Cornell Univ. Press. ISBN 978-0801445019. Spreadsheet available at http://www.birds.cornell.edu/clementschecklist/downloadable-clements-checklist
Avibase
AnimalCorner
Wikipedia
Recommended Citation
External Links